Milford, Massachusetts Voters Reject Foxwoods Casino Proposal
Posted on: November 23, 2013, 05:30h.
Last updated on: December 3, 2014, 04:15h.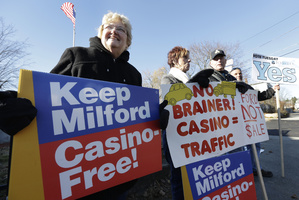 Sorry, Foxwoods: it appears you're not wanted in Massachusetts, either. The Connecticut gambling giant was soundly defeated at the polls this week, as voters in the town of Milford, Massachusetts decided that they didn't want a casino resort in their backyards.
Three Down for the (Voter) Count
This is becoming a routine story in Massachusetts, where voters rejected proposals in East Boston and Palmer earlier this month. In this case, Foxwoods was looking to build a $1 billion complex in the Boston-area town to compete for that region's sole casino license.
Once the first returns started coming in, it was clear that the casino vote wasn't going to go Foxwoods' way. CEO Scott Butera quickly conceded defeat once the polls closed, telling casino supporters that the vote meant that plans for the casino would absolutely not be going forward. Once all the votes were in, the margin was enormous: 6,361 against the plan, and 3,480 for it, or about a 65%-35% split.
Foxwoods spent a large amount of money promoting the casino, but it wasn't enough to convince locals that it was a good deal for the local economy, apparently. While they promoted the fact that there would be many new jobs created and more than $30 million in new revenue for the town, the opposition carried the day.
"Our town wasn't for sale," said John Seaver of the anti-casino group Casino-Free Milford. "They wanted to come in and call the shots, and they almost did. But the people rose up, pushed back and overwhelmingly said 'this town is not for sale.'"
Opponents warned that adding a casino resort could increase crime in the town, as well as depress property values. That, along with warnings of massive traffic jams, was seemingly enough to convince most Milford residents to vote "no".
According to Butera, though, the real problem is that myths about casino gambling are influencing voters, more than arguments in favor of building the resorts.
"I think people are afraid of the unknown," Butera said. "There's a lot of myths about what casinos are…they are not these crazy hedonistic places. They're actually very nice resorts that have a lot more to do [than] just games."
The Milford vote was the last one scheduled – at least for the time being – among a series of binding referendums held by towns over whether they would approve casinos built in their towns. Applications can still come in for the three casino licenses and the one slot parlor license in the state until the end of the year, however.
While the recent results for casino companies have been poor in these votes, other companies have had more success. Both Wynn Resorts and MGM have successfully had projects approved by their local communities, allowing them to compete for licenses in the Greater Boston Area and Western Massachusetts, respectively. Three towns have already backed plans to build smaller slots parlors in their communities, though only one will ultimately get a license from the state.
Other projects still hang in the balance. Mohegan Sun narrowly lost a vote to approve a casino in Palmer – so narrowly, in fact, that they're getting an official recount of the results later this month. Meanwhile, Suffolk Downs in East Boston is considering the possibility of altering their plan and placing the entirety of their casino resort in neighboring Revere, which voted in favor of allowing them to build there.
Similar Guides On This Topic