MGM Springfield Uproots Historic Church While Massachusetts Lawmakers Advise Against Southeast Commercial Casino
Posted on: April 20, 2016, 08:01h.
Last updated on: April 20, 2016, 08:45h.
The MGM Springfield has successfully relocated the 129-year-old historic First Spiritualist Church in Springfield, Massachusetts, to make way for its $950 million casino resort scheduled to open in 2018.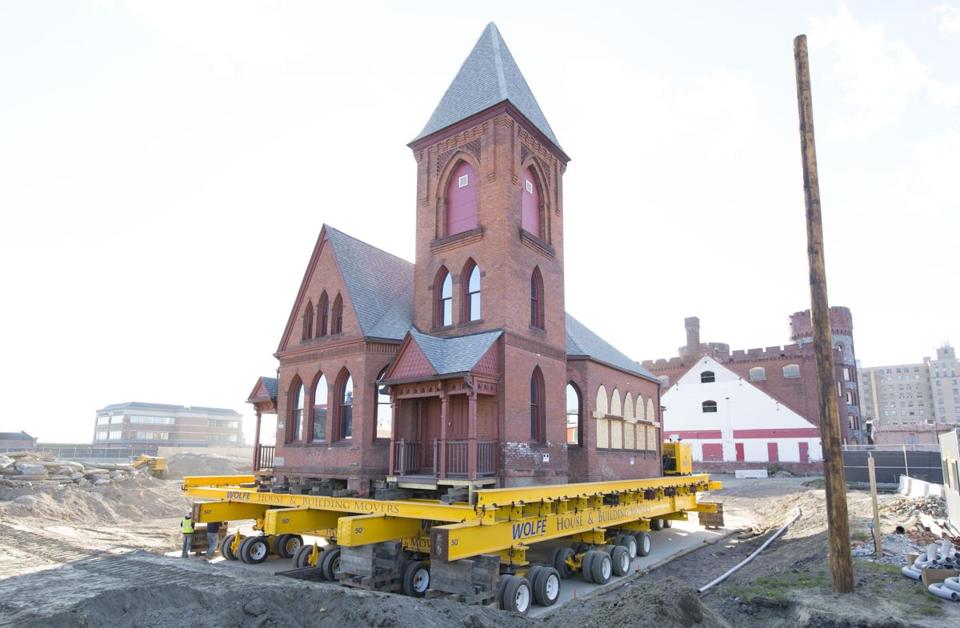 After weeks of preparation, the church was moved on Tuesday some 200 yards from where it stood since 1887. The trip took five-and-a-half hours, or a blistering 1.8 feet per minute.
Of course, speed was of little concern as preservation of the eminent building and assurance of its integrity was paramount for the moving team. When all was said and done, the 200-yard voyage cost MGM $800,000.
"Today's church relocation marks an exciting milestone for this project," MGM Springfield VP of Construction and Development Brian Packer told reporters.
Springfield Mayor Domenic Sarno (D) put a fun twist on his remarks by stating, "I think if you look at the definition now of 'Holy Roller,' that might fit the bill."
Maintaining History
One of the primary concerns among local residents with building the MGM Springfield in the location developers and MGM executives preferred was how the mega-resort might impact the area's historical buildings.
MGM committed to both the Springfield Historical Commission and Massachusetts Historical Commission that it would take every step possible to assure the region that it wouldn't be bulldozing its way through the city. Instead, MGM claims its goal is to preserve the rich history of Springfield.
"Once visitors pull off the highway and into our strategically located parking garages, those who want to experience the many historic, cultural, business, and academic draws that Springfield has to offer, will be linked to Union Station and other central locations by a trolley system," the MGM Springfield website explains.
Lawmakers Warn Gaming Commission
The Massachusetts Expanded Gaming Act passed in 2011 called for the issuance of licenses for three commercial resort gambling facilities in three separate regions.
The Wynn Everett, now known as Wynn Boston Harbor, and MGM Springfield claimed the first two spots representing the central and western sections. But Region C, the southeast part of the state comprising Bristol, Plymouth, Nantucket, Dukes, and Barnstable counties remains up for grabs.
The Mashpee Wampanoag Tribe is currently constructing a $1 billion casino on its native land in Taunton. The tribe, which doesn't need state approval to build such a facility on its own reservation, would pay a 17 percent tax on its gambling revenues unless Massachusetts violates the gaming compact and allows a commercial casino to be built within 25 miles of Taunton.
Rush Street Gaming has proposed a $677 million gambling resort in Brockton and was expected to receive approval by the Massachusetts Gaming Commission (MGC) when the governing body meets next week to discuss Region C.
Seven state lawmakers are advising the MGC to vote against the Brockton resort as it would allow the Mashpee Wampanoag Tribe to operate a casino tax-free.
"We have serious concerns that total revenue collection by the Commonwealth is not being given the consideration that it deserves," the coalition wrote in a letter to the MGC this week.