MGM Resorts In Talks for Possible NHL Las Vegas Team
Posted on: November 3, 2014, 06:53h.
Last updated on: November 3, 2014, 06:56h.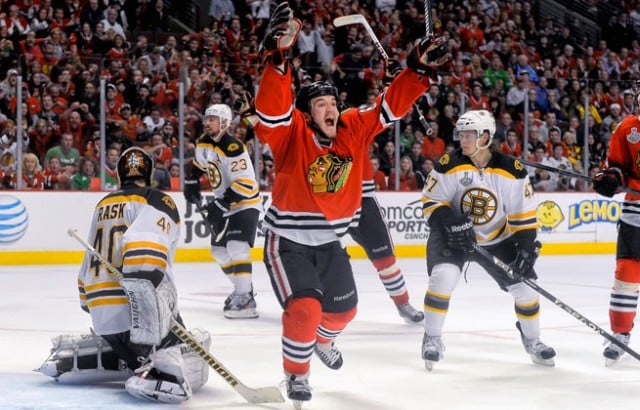 MGM Resorts International is in preliminary talks with a group that wants to bring a National Hockey League Team to Las Vegas to play at the company's new $350 million sports arena. The 20,000-seater MGM-AEG Arena, which is currently under construction behind New York New York, is crying out for a major league sports to call it home, as is the entire city of Las Vegas.
The company's CFO Dan D'Arrigo divulged the information during an interview with the Las Vegas Review-Journal, although he declined to say whether the talks centered on the creation of a new team or of an existing team moving to the city. Conveniently, AEG, MGM's partner in the arena, already owns the Los Angeles Kings NLH team.
MGM and AEG went ahead with the sports arena project without the guarantee of a major league resident, because they were confident that it could attract 100 to 150 events per year, with a steady stream of concerts and awards shows, as well as mixed martial arts and boxing events, hockey and college basketball tournaments.
UFC, the largest mixed martial arts company in the world, owned by Stations Casinos' Fertitta brothers, has pledged to hold five or six annual fight shows at the stadium. The Fertittas are also head honchos at  Ultimate Gaming, Stations' online poker presence in Nevada.
Media Rumors
Rumors have been swirling in the media for some time about an NHL team coming to Vegas, with a report last month by The Province that it was already a "done deal" apparently premature and denied by deputy commissioner Bill Daly, who said that the league had no plans to expand.
Sports Business Daily then waded into the debate, outlining why a Sin City NHL team was unlikely. Its reasons included the fact that one-third of Las Vegas residents work at night, when NHL games are played, as well as that Las Vegas is also not a big TV market, meaning local broadcast rights would not generate enough profit.
The paper also wondered whether the casinos would be willing to encourage its Vegas-based customers to leave the gaming tables for more than three hours to go and watch the game, and cited a recent NBA-commissioned survey that concluded that a team in Las Vegas would not make a profit.
Mixed Reaction to MLS Effort
Despite the desire for a major league team in Las Vegas, concerns about profitability and financing linger. A recent plan by Las Vegas Sands shareholder Jason Ader to bring Major League Soccer team to the city has been met with mixed reactions, partly due to concerns over the $350 million costs, some of which would have to be fronted by the taxpayer, and partly, perhaps, because Americans aren't completely sure whether they love soccer that much quite yet.
Nevertheless, it seems MGM thinks that a Las Vegas NHL team could be an exciting prospect.
"We would be supportive of an NHL team coming to our arena," D'Arrigo said. "We're highly interested and we have been in discussions with a group."
The arena is being built to NBA and NHL specifications, and will offer high-end seating options, ranging from spacious clubs and 50 luxury suites to more than 25 luxury loge boxes. The venue is scheduled for completion in 2016.