MGM Resorts Director Paul Salem Invests Over $20M in 800K Company Stock Shares
Posted on: May 14, 2019, 04:00h.
Last updated on: May 14, 2019, 12:57h.
Paul Salem — recently appointed member of MGM Resorts International's board of directors — is betting on higher prices for the casino operator's stock.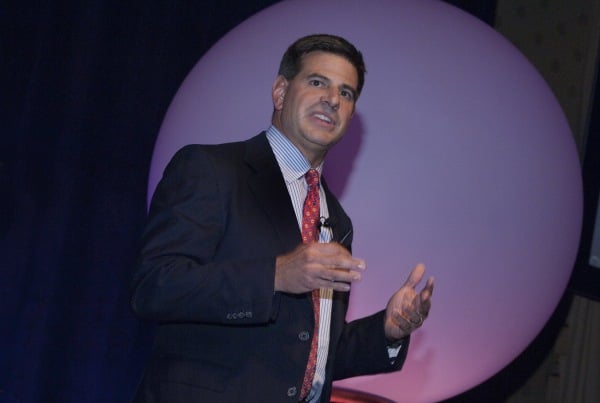 A filing with the Securities and Exchange Commission (SEC) reveals that on May 8, Salem bought $20.3 million worth: 800,000 shares of MGM stock at an average price of $25.40. Salem's purchase represents about two-thirds of MGM first-quarter earnings of $31 million, according to a report in Barron's. He joined the board last August as its 13th member.
Good Timing
Based on that average purchase price of $25.40, it appears Salem's purchase of MGM stock was well-timed. In midday trading on Tuesday, shares were higher by 2.25 percent, trading at $25.93 as of this writing.
But overall, MGM shares have been lower by nearly 6 percent for May, after the Las Vegas-based company reported disappointing first-quarter earnings on April 30. The company said it earned 12 cents a share in the first three months of the year, well below the average analyst estimate of 23 cents.
The company is planning to eliminate 1,000 jobs by the end of June as part of its "2020 plan," which aims to reduce costs by $100 million this year and another $200 million by the end of 2021.
MGM, which owns the Bellagio, Mandalay Bay, The Mirage, and 11 other Las Vegas Strip casino resorts, has $15 billion in debt, a sum that is significantly higher than the debt burdens of rivals Caesars Entertainment, Las Vegas Sands, and Wynn Resorts.
Bullish Sign?
 Salem's purchase of MGM stock is the largest by a company director in recent years.
According to S&P Capital IQ, it is the largest open-market MGM stock purchase by a company insider since at least August 2004," a Barron's report asserts.
Salem's buy could be seen as bullish for another reason: his purchase is well in excess of MGM's share ownership requirements for board members. Company directors are expected to accumulate "stock having a fair market value equal to five times such director's annual base cash retainer from time to time," according to an MGM filing with the SEC.
The cash base retainer for MGM directors is $90,000, meaning directors need to accumulate $450,000 worth of MGM stock over five years. However, those purchases do not need to be made on the open market. Purchases of MGM stock by directors can be used via restricted stock units (RSUs), of which Salem owns $112,500 worth.
MGM Real Estate Committee
Salem, Providence Equity's senior managing director emeritus, sits on a newly formed committee MGM is using to evaluate its real estate portfolio. That committee was formed earlier this year after hedge fund Corvex Management built a position in MGM stock and was awarded a board seat, which went to Corvex founder Keith Meister. Salem, Meister, and Kilroy Realty CEO John Kilroy Jr. are the independent directors on the real estate committee.
Salem, 55, holds degrees from Harvard Business School and Brown University.
The "Good" Kind Of Insider Trading
Insider trading is often viewed in a negative light, but purchases of a company's shares by board members and executives is both legal and viewed as a positive sign by analysts and investors.
High-ranking execs and directors buy stock for one reason: because they believe the shares will increase in value. Wall Street views legal insider trading as a positive sign because the analyst and investor communities like knowing C-level executives and directors have "skin in the game."
If and when a director decides to sell shares, a filing has to be made with the Securities and Exchange Commission (SEC), a regulatory step aimed at ensuring insider sales are not based on information that has not yet been made available to the broader investing public.