MGM Reclaims Half of Borgata After Regulatory Fine Pay Up
Posted on: September 14, 2014, 10:00h.
Last updated on: September 14, 2014, 02:26h.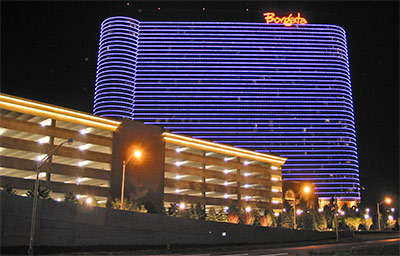 MGM Resorts International and Borgata are back in bed together in Atlantic City, following a four-year hiatus to reassume its 50 percent ownership of the casino. Several weeks ago, MGM reportedly paid a $225,000 settlement to the New Jersey Division of Gaming Enforcement (NJDGE) to resolve a decade-old case involving criminal proceedings against one of its former board members, Terry Christensen.
The DGE's actual investigation into the Christensen affair was conducted years ago, but was put on hold in 2010 when MGM decided to sell its stake in the Borgata, and quit New Jersey. During the ongoing investigation, the DGE had also raised concerned about Pansy Ho, MGM's business partner in the MGM Grand Macau, whose father the regulators suspected of having links to the Chinese Triads.
Escape from New Jersey
Rather than sever ties with Ho, MGM left the New Jersey market, although a buyer was never found for its half of the Borgata, which it jointly owns with Boyd Gaming. The Casino Control Commission is now apparently satisfied with the nature of the Ho relationship.
MGM also owns land opposite the Borgata, where it once planned to develop a resort, and, with casino closures and bankruptcies striking at the heart of Atlantic City's casino industry, the emergence of a new operator could be a good thing for New Jersey. The Borgata has long been AC's best-performing casino, and also has the market share of the New Jersey's fledgling online gaming industry.
The Christensen Affair
Terry Christensen had been a legal adviser and personal confidant to Kirk Kerkorian, MGM's major shareholder, for 40 years. He also served on the MGM board for nine years, until 2006, when he was indicted and charged, along with private investigator Antony Pellacino, with bugging the phone of Kerkorian's ex-wife, Lisa Bonder in 2002. Christensen received three years in prison for this indiscretion, but it was the fact that MGM continued to consult him on major company concerns after his resignation and criminal conviction that got it into trouble with the regulators. Under New Jersey law, no one with a criminal conviction is able to profit in any way from the running of a casino.
"We made that mistake as a company and I made it as chairman," said MGM CEO Jim Murren, who admitted he was still taking calls from Christensen post-conviction. "It is one I will never forget and I will always regret."
Ho Relationship Diluted
Meanwhile, MGM said that Ho's ownership of the MGM Grand Macau had been diluted from 50 percent to 24 percent since the business went public and Ho no longer has any influence of the day-to-day running of operations. Furthermore, MGM and the family of Pansy Ho denied the alleged links to organized crime, adding that Pansy's father, Stanley Ho, who held a government-granted monopoly on gambling in Macau for 40 years, is now old and infirm.
The Commission voted unanimously to permit MGM's return to New Jersey, where the company will now focus on operating the Borgata along with Boyd Gaming.
"I welcome MGM back to New Jersey," said Matthew Levinson, the commission's chairman. "I believe it will be a key player in New Jersey."