Senator McCain Seen Playing iPhone Poker During Syria Senate Hearings
Posted on: September 4, 2013, 12:45h.
Last updated on: October 22, 2013, 01:21h.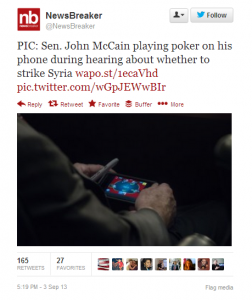 Who among us hasn't sat bored during a company meeting, stealthily gaming on a mobile app under the board room table and hoping no one notices we're not paying the slightest attention to anything any of the suits are saying? Exactly. So would we expect our politicians – not famous of late for keeping their minds on business at hand anyway – to be any different? Of course not.
Snapped in the Act – and Tweeted
Who knows how many members of Congress have actually done this through the years; but now Sen. John McCain has been caught red-handed, after Washington Post photographer Melina Mara, apparently seated behind the Senator during a Senate Foreign Relations Committee Hearing on the little matter of whether the U.S. should send missiles to strike Syria, caught an image of him playing on his phone and Tweeted it out on her Senate hearings blog in real time. Naturally, the Tweet went viral faster than a case of bird flu.
McCain – who infamously survived six years as a prisoner of war in Vietnam from 1967-1973 – was not about to let a little media attention upset him on this matter.
"Scandal! Caught playing iPhone game at 3+ hour Senate hearing – worst of all I lost!" he Tweeted, proving that at 77, the Republican Senator still knows how the game is played in Washington. He who laughs last, laughs best.
Poker and War: Common Ground
Really, when you think about it, poker and war strategy go hand-in-hand, so maybe McCain was actually formulating some thoughts on how best to beat our adversaries while consumed by his game. And, unlike the Senate's hearings, McCain's game apparently involved no actual money.
Turns out his little distracted gambling session is not McCain's first; the senator apparently is quite the aficionado of gaming. Back in 2008, the man who endured years of torture in Vietnam showed he was made of tough mettle as a gambler as well: he walked out with several thousand in winnings from the Foxwoods Resort Casino in Connecticut after playing some high-stakes craps where he was seen betting $100 a hand.
After what he's survived, we have no doubt the Senator is not intimidated by much. Quite the friend of several Indian tribes when they've lobbied Congress for favorable legislation for their casino projects, McCain says he is "justifiably proud" of his voting record when it comes to Native American tribal legislation and regulations.
McCain is quite the friend of Las Vegas interests as well. It's said he counts quite a few highly placed casino execs among his inner circle, and they, in turn, have proved to be dependable and generous fundraisers for his campaigns.
"Beyond just his support for gaming, Nevada supports John McCain because he's one of us, a Westerner at heart," said Sig Rogich, a Nevada Republican mogul who's raised close to $2 million for McCain at various points in his career.
But, back to the great Senate hearing iPhone poker scandal of 2013. McCain showed the same blasé attitude to the media – trying to embarrass him for the basically harmless incident – as he always has.  And let's face it, after what we've seen of late from Anthony Weiner on his phone, nothing McCain does could be considered too scandalous in that arena.
And next time your boss calls you out for under-the table mobile app activity during a business meeting, just tell him you're "pulling a McCain."