Massachusetts Casino Repeal Vote Takes Place Tuesday
Posted on: November 3, 2014, 12:33h.
Last updated on: November 3, 2014, 12:35h.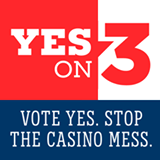 A vote that will either lead to Massachusetts casino repeal or to the matter being put to bed once and for all is coming on Tuesday, though it would take a major upset for anti-casino advocates to get their way on Election Day. Those looking to defeat casinos are confusingly looking for voters to vote "Yes" on Question 3, a proposition that would put an end to the 2012 law that is allowing the state to license gaming houses across the state.
According to the latest survey by the Western New England University Polling Institute, 59 percent of likely voters in the state plan to vote "No" on the ballot question, meaning "yes" to legal casinos. Only 35 percent plan to vote "yes," in favor of the repeal. Those figures represent a major gain for pro-casino forces, since a September poll showed just an 11 percent advantage for "no" voters.
Of course, that's assuming voters don't get completely  bewildered by the unintuitive "yes/no" phrasing of the ballot initiative itself.
Religious Voters Support Repeal
The numbers show that there has been some success in efforts by religious leaders to get parishioners to oppose the casino law, with regular churchgoers being more inclined to vote "yes" than their non-attending counterparts. But even Catholics who attend mass every week are opposed to repeal by a 17 percent margin. In fact, Protestant voters who worship regularly make up about the only demographic that favor repeal, doing so by a 55-45 margin.
Meanwhile, the advertising efforts by casinos and their allies appear to have been very effective. Support for the repeal in Western Massachusetts has been reduced significantly compared to in prior polls, perhaps because of advertising that touted the benefits of the planned MGM casino in Springfield.
Battle Over Benefits and Consequences
But while anti-casino advocates may be facing long odds on Tuesday, they're still fighting in the final moments to get their message out. Groups like Repeal the Casino Deal believe that the casinos will offer very little economic benefit to the people of Massachusetts, while increasing criminal activity and gambling addiction.
"The money isn't coming to the people of Massachusetts," said Al Cabot, an anti-casino advocate. "This is simply money that's going from one or two casinos in Connecticut to three casinos in Massachusetts."
Not surprisingly, those in the casino industry see things just a little bit differently. According to MGM Springfield President Mike Mathis, his company's casino will create thousands of jobs and bring tens of millions of dollars in economic stimulus to the community.
"We've seen what 25 years of no casino can do," Mathis said. "We'd like a chance."
Mathis also disputes the idea that casinos would simply be taking money that is already spent in Massachusetts and shifting it to spending at his company's resort.
"A third of our customers are coming from Connecticut," Mathis said. "This idea that money is falling from the sky or we're cannibalizing the local market is just inaccurate."
Casinos in Massachusetts: Pre-Election Status
So far, three licenses have been awarded to build gambling venues in Massachusetts. Along with the MGM casino in Springfield, Wynn Resorts was the winner of the Greater Boston license, beating out a competing plan by Mohegan Sun at Suffolk Downs in Revere. A license was also awarded to Penn National to build a slots parlor in Plainridge.
While casino opponents may come up short at the polls, just getting the question on the ballot was something of a victory. Although campaigners collected more than enough signatures to put the casino question to a referendum, Massachusetts Attorney General Martha Coakley originally rejected the question, forcing a showdown in the state's Supreme Court over whether it would ultimately appear on this year's ballot.
Similar Guides On This Topic