Manny Pacquiao Still Betting Favorite, Steps Back Into Ring Against Lucas Matthysse
Posted on: July 14, 2018, 08:00h.
Last updated on: July 14, 2018, 12:14h.
Boxing legend Manny Pacquiao may be pushing 40-years old, but he's not ready to hang up the gloves just yet.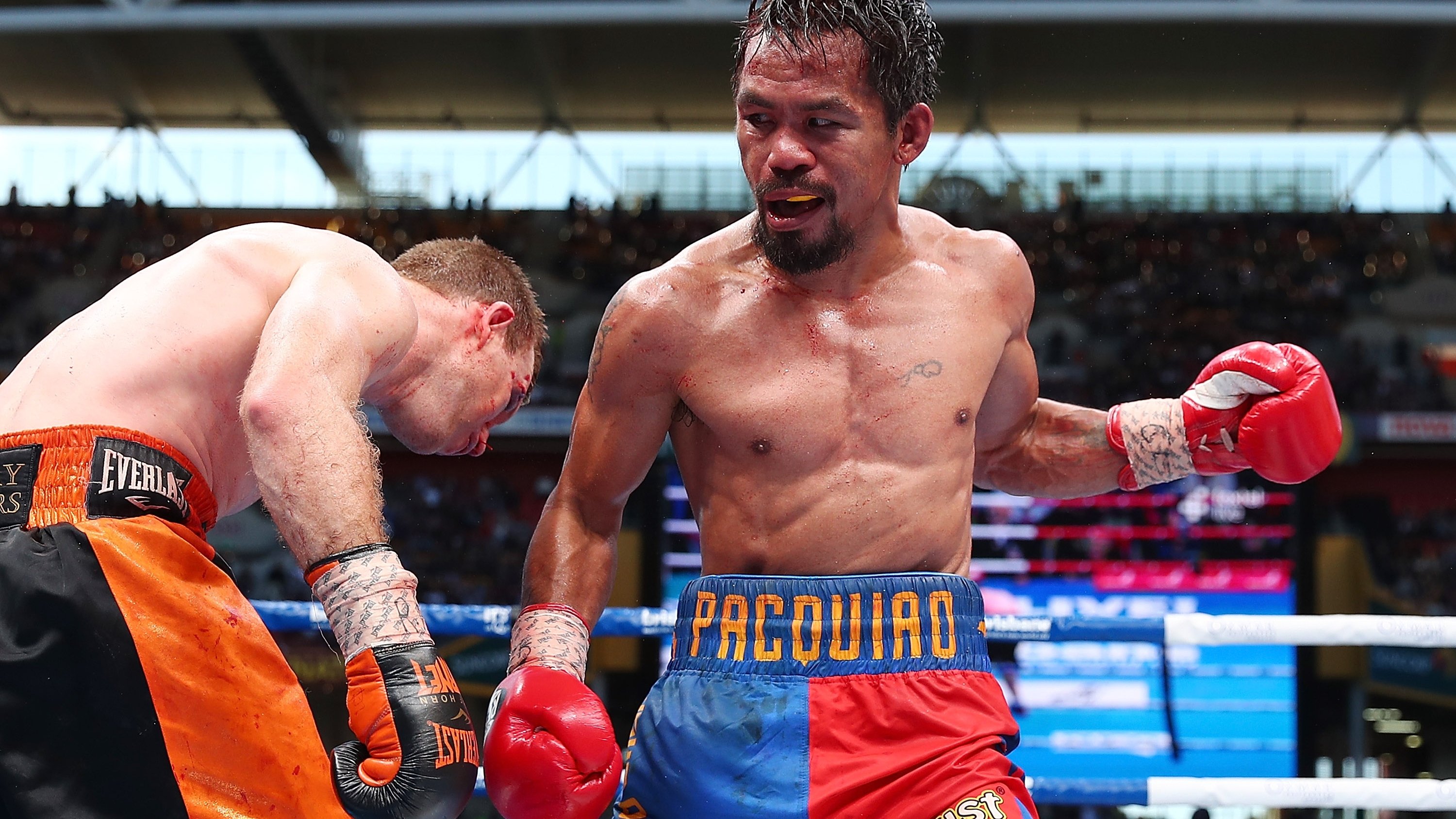 The Filipino fighter will step into the squared circle for the 69th time in his career as he attempts the win the welterweight title away from Argentina's Lucas Matthysse. The two will face off at the Axiata Arena in Kuala Lumpur tonight (Sunday afternoon in Malaysia).
Despite the fact that he'll turn 40 in December, the fight is no swan song for Pacquiao, who has won a world championship belt in a record eight different weight classes over the course of his career. He's hoping to parlay a win this weekend into a fall fight with WBA lightweight champion Vasiliy Lomachenko.
All this as Pacquiao continues to serve as a Senator in the Philippines government.
Dimming Spotlight
While it's noteworthy anytime one of the all-time greats straps on the gloves, there is no doubt that Pacquiao's star has faded in recent times.
It was only a few years ago that he received top billing in one of the biggest boxing bouts of all time. Pacquiao pocketed in the neighbourhood of $100 million dollars for taking on Floyd Mayweather in a tilt dubbed "The Fight of the Century."
Pacquiao came out on the losing side of the fight, but the matchup itself was a massive draw and generated some $500 million in revenue. It's considered to be the biggest pay-per-view (PPV) purse of all time.
Tonight's fight? Not so much. There will be no PPV prize to split this time around because it will be broadcast for free on ESPN. And not even ESPN's main network; it will instead be shown on ESPN's streaming service, ESPN+.
Ticket sales in Kuala Lumpur have been poor, and financing for the fight didn't even come through until last month.
The lack of interest may be the least of Pacquiao's worries, according to ex-trainer Freddie Roach. He's concerned that a combination of Pacquiao's advanced age and his opponent's hard-hitting style could spell trouble for his former fighter.
"It's scary that Manny could run into a big shot," Roach told the LA Times. "Yes, Matthysse can take him out with any punch. Manny just has to stay careful and stay sharp.
At the Betting Window
That's not an outcome that bookmakers are anticipating, as the fighter they call "Pacman" has been installed as a significant favorite in the bout.
The majority of sports books are offering 1-2 odds on a win for the Filipino. That means that to win $100, you'd have to bet $200 on Pacquiao. Meanwhile, the 35-year-old Matthysse, who is 59-7-2 with 38 knockouts in his career, is a 7/4 underdog. A $100 bet on the Argentine would net you $275 in profit.
For his part, Pacquiao doesn't sound too concerned about what may happen in the ring. According to him, the bigger worry is his political opponents.
"It's very dangerous," Pacquio told the Times. "Politics is more dangerous than boxing, but I'm OK. I have a security staff, the army to watch me."
The fight gets underway tonight at 6 pm PST.