Major League Baseball Expands Partnership With DraftKings
Posted on: April 8, 2015, 12:31h.
Last updated on: April 8, 2015, 12:31h.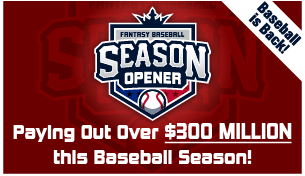 Major League Baseball season began on Sunday, and fans across the country were happy to start enjoying the nearly daily presence of the sport that will span through the summer and provide action over the next seven months, including the playoffs and World Series.
But the last week also marked a major sign of the growing acceptance of daily fantasy sports by professional sports leagues, as Major League Baseball announced an expansion of their ongoing partnership with DraftKings.
The relationship between professional baseball and DraftKings isn't anything new: MLB Advanced Media made their first deal with the daily fantasy sports site in 2013.
However, the new agreement will see a much closer relationship between the two sides.
New Deal Includes More Advertising and Promotion of DraftKings Products
The new deal reportedly gives Major League Baseball (MLB) a small amount of ownership in DraftKings, and will ensure that DraftKings is the official daily fantasy game for the league.
That means there will be more DraftKings branding in stadiums, more promotion of DraftKings' contests on MLB.com and MLB.tv, and DraftKings will even appear as an official sponsor of some MLB events.
"Expanding our exclusive partnership with DraftKings will bring new and exciting ways for fans, particularly younger fans, to play daily fantasy baseball," said Kenny Gersh, MLB's executive vice president of business.
"DraftKings has established itself as a trusted leader through a high quality fan experience in a rapidly changing space and we are happy to continue to have them on board."
While DraftKings will now enjoy a closer relationship with MLB, that doesn't necessarily mean fans of every team will see DraftKings logos plastered across their stadiums.
MLB is requiring DraftKings to approach individual teams on a case-by-case basis in order to develop more targeted promotional efforts.
MLB A Growth Market for DraftKings 
According to DraftKings, MLB games have been one of their fastest-growing segments. Over the past year, DraftKings says that the number of players in MLB contests has increased "nearly eightfold," noting that fans often play the games for fun as much as for profit, as they're 35 percent more likely to take players from their hometown teams on their daily fantasy rosters.
"Two years ago, MLB and FraftKings signed the first league deal in daily fantasy history, and we are excited to deepen that ground-breaking relationship through this new, league wide, exclusive partnership," said Jason Robins, CEO of DraftKings.
"MLB has long been at the forefront of embracing new technologies to create superior fan experiences, and DraftKigns couldn't be happier to partner to continue that tradition of innovation."
Some believe that the deal could be a sign that MLB is preparing to soften its stance against gambling.
Commissioner Rob Manfred has not been as public in his support for legalized sports betting as NBA Commissioner Adam Silver, but he has said that he and the league's owners may have to discuss the issue going forward.
For now, though, Manfred says there is a clear difference between daily fantasy sports and sports betting.
"The difference is one's legal and one is not," Manfred said on Monday. "It's a pretty definitive line."
The partnership comes soon after a reported deal between DraftKings and the Walt Disney Company that would see Disney invest $250 million into the company. However, that deal has yet to be confirmed by either Disney or DraftKings.