Macau's Cotai Strip Focus of Most American Casino Development Dollars
Posted on: July 16, 2013, 05:30h.
Last updated on: July 15, 2013, 07:24h.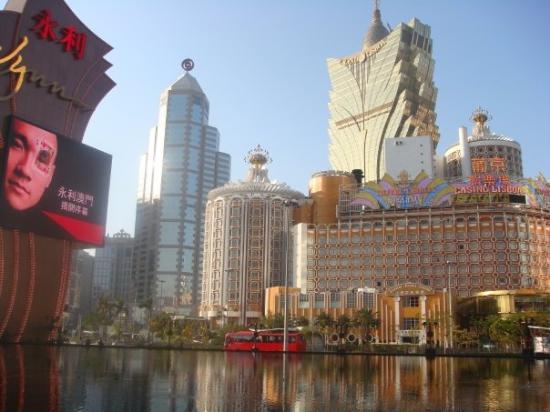 While Las Vegas casinos continue to grow their non-gaming revenue-producing options, it's now Macau's lucrative Cotai Strip that will be the focus of actual major casino resort development for the next few years.
Money Pouring Into Macau's Cotai
Whereas the Las Vegas Strip will see approximately $1.6 billion on four new projects, Macau's Cotai will be getting a $22 billion facelift, primarily with funds from behemoth U.S. casino developers like Wynn Resorts Ltd, MGM Resorts International and Sheldon Adelson's Las Vegas Sands Corp.
Moreover, half of the investments in Las Vegas are about transforming existing properties or adding non-gaming enhancements such as eateries, clubs, spas, and high-end retail and hotel developments. Only the $400 million morph of the former Sahara into the new SLS Las Vegas, and the $185 million renovation of the formerly tacky-as-hell Bill's Gamblin' Hall into the newly chic, but hard-to-pronounce Gansevoort Las Vegas, will encompass gaming as well as all the rest. But neither the new Linq retail/dining/entertainment district nor MGM Resorts' $450 million 20,000-seat sports arena and fancy shopping and restaurant development, involve any gaming additions.
On the other side of the world, in Cotai, Wynn Resorts Ltd. is pouring up to $4 billion on a 2,000-room Cotai project, while MGM Resorts has $2.5 billion ready to spend on a new 1,600-room Cotai resort. The two properties should open to the public in early 2016 and probably won't be without their hiccups. "Capacity will be staggered as a function of construction timetables and government controls," Credit Suisse gaming analyst Joel Simkins said. "Investors need to prepare for bumps along the way."
Infrastructure Still Needed
Unlike Vegas, Cotai is still developing basic issues, like infrastructure and transportation. As such, some of the improvements there will encompass enlarging the Cotai Ferry Terminal, widening the Guangzhou-Zhuhai Super Highway and the Hong Kong-Zhuhai-Macau Bridge, and making improvements to the Macau Airport so that it can handle the anticipated 12 million passengers annually who are expected to arrive once it's completed by 2017. A year earlier, a new light rail transit system, with 21 stations, is expected to be finished, which will allow for easier movement between Macau proper and the gambling zone at the Cotai Strip.
Addressing investors recently, Simkins said Macau hotel-casino projects might amp the Cotai market to between $61 billion and $76 billion in annual gaming revenues by 2017.
Similar Guides On This Topic
Most Read