Las Vegas Convention & Visitors Eyes Monorail, Mayor Goodman Opposed
Posted on: July 15, 2020, 09:46h.
Last updated on: July 15, 2020, 04:08h.
The Las Vegas Convention and Visitors Authority (LVCVA) is mulling a bid to acquire the Las Vegas Monorail. But one powerful local leader opposes such a decision.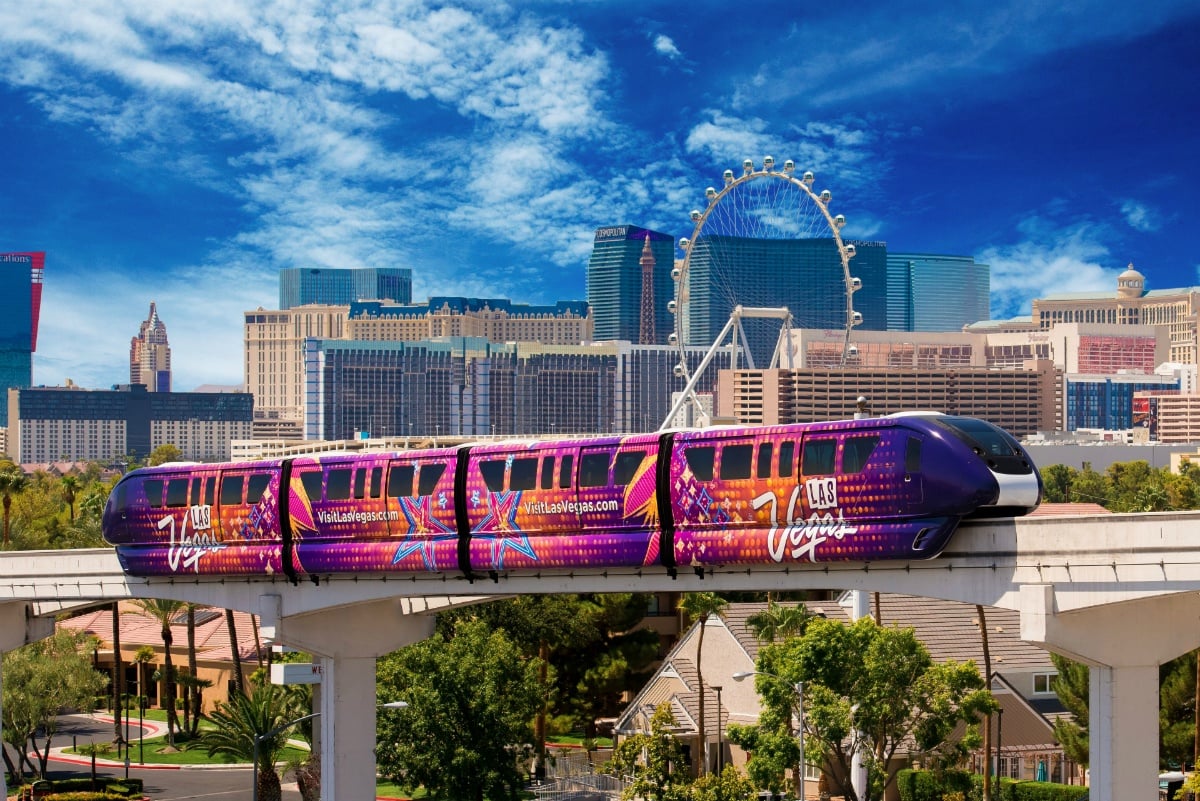 LVCVA President and CEO Steve Hill revealed during Tuesday's board meeting that the tourism agency is considering taking ownership of the mass transit system.
The people mover that connects Strip casinos presently has seven stations — Sahara, Westgate Convention Center, Harrah's/Linq, Flamingo, Caesars Palace, Bally's/Paris, and MGM Grand. A one-ride ticket costs $5, unlimited 24-hour pass $13, and unlimited seven-day pass $56.
"We think that the monorail is an important transportation option when the destination is at full strength," Hill explained. "It moves nearly five million people per year, and a lot of those people are attendees here at the Convention Center. We want to make sure that the monorail system has the ability to continue to operate in the coming years."
The Las Vegas Monorail opened in 1995 as a free two-stop shuttle between Bally's and MGM Grand. The driverless transit network is owned and operated by the Las Vegas Monorail Company, a private nonprofit. The Las Vegas Monorail is the only privately owned public transportation system in the United States.
Bad Bet
Hill says the LVCVA is in the early stages of discussing a potential deal with the Las Vegas Monorail Company.
"It's early in this conversation, although the conversation could move pretty quickly," Hill explained. "The current status of the market being shut down because of the virus has certainly harmed every organization, and the Monorail is no exception to that, so this has caused the conversation to move forward at a fast pace."
The Monorail closed March 18, the same day Nevada Gov. Steve Sisolak (D) ordered all casinos in the state to suspend their operations. It remains closed, and with the Monorail having no source of income as a result, Hill believes the nonprofit could be more eager to sell.
The LVCVA president says he is in discussions with Las Vegas Monorail Company CEO Curtis Myles. Las Vegas Mayor Carolyn Goodman — who is a LVCVA board member — says buying the Monorail makes no sense. She called it a "bottomless pit."
I would be absolutely opposed to LVCVA funding it," the mayor stated. "Part of it is because it doesn't go to the airport and doesn't go downtown. It very much serves MGM properties, and they were looking at purchasing it in order to take the monorail over to Mandalay Bay so it could service Allegiant Stadium."
The LVCVA is already building an underground loop with Elon Musk's Boring Company. The Convention Center Loop, planned to open in early 2021, is a $52.5 million transportation system that will connect Convention Center buildings via three stations.
Lofty Salaries
The Las Vegas Monorail Company might be a not-for-profit organization, but that doesn't mean its leaders aren't being paid handsomely.
According to the company's 2018 tax filings, Myles was paid $343,733. Three other executives pulled in more than $200,000, and another three were compensated more than $100,000.
Similar Guides On This Topic