Luxury Resort Set to Rival Macau
Posted on: February 22, 2013, 04:41h.
Last updated on: February 22, 2013, 03:06h.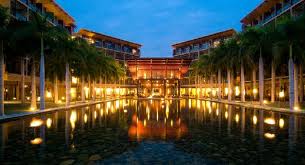 The small island of Hainan, the smallest province in China, has recently unveiled its Jesters Casino Bar. An important part of the Asian gambling market, Jesters Casino Bar is situated in the Mangrove Tree Resort in Sanya Bay and is the first casino offering of its kind to open in China .
Once the venue is fully completed, those who attend the casino resort will initially be unable to win cash prizes, and will instead win special prizes based on a points system which is awarded from their partaking in the different games available, and is thought to be an attempt to lure residents back from the popular gambling venue of Macau.
With more than 4,000 rooms, the Mangrove Tree Resort World in Sanya Bay, once completed, will become the largest resort in China. The resort will also feature a water park and a convention centre in the style of Las Vegas.
"Our casino bar is the first in the country," stated owner Zhang Baoquan, president of the Antaeus Group. "The government is monitoring, it's a test," he added.
Zhang, who currently sits in 265th place on the Forbes 2012 Chinese Rich List with an estimated net worth of $605 million, explained that they are not currently legalising casino gambling, but he feels this is something that may be in the cards in the future.
Macau, which took $38 billion in gaming revenues last year alone, largely from the pockets of Chinese visitors, is just a one-hour plane ride away from the resort, meaning the venue, if all goes as planned, could become the new destination of choice in the region.
"Gambling culturally is a very bad thing, but today there is a difference – gambling is a financial tool," claimed the businessman and entrepreneur.
MGM Resorts International opened the MGM Grand in the Sanya area in 2012, and are now likely to be watching the Jesters Casino Bar project closely. The MGM Grand has already garnered success and hosted the World Poker Tour National Series in December last year, which was the first event of its kind in the region. 2014 is also set to see the opening of a new venue courtesy of Caesars Entertainment.
With a number of big players looking at the plot, the Sanya Bay area could become one of the gaming hotspots of the Asian region.
Similar Guides On This Topic