Long Beach Vice Squad Breaks up Home-Based Illegal Gambling Ring, Seizes Four Guns, $2,000 in Cash
Posted on: July 22, 2019, 06:00h.
Last updated on: July 22, 2019, 11:51h.
Vice detectives in Long Beach, Calif. disrupted an illegal gambling operation being run out of a residence on July 19, seizing gaming machines, weapons, ammunition, and cash. The bust also resulted in three arrests.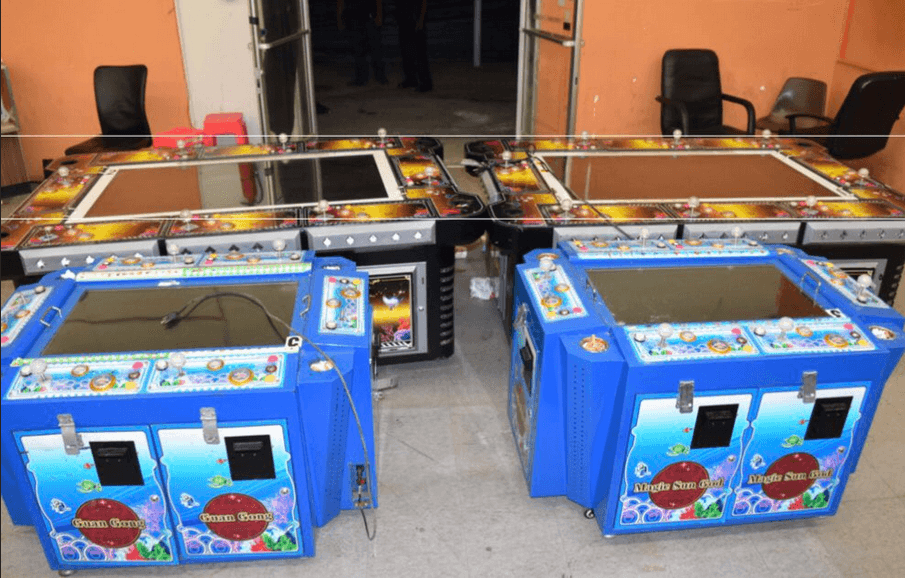 Authorities did not specify the nature of the gaming machines found at the residence on the 1400 block of Cherry Avenue, but a photo provided to Casino.org by the Long Beach Police Department (LBPD) indicates that at least two of the machines appear to be the fish table game, often a hallmark of illegal gambling enterprises.
Upon arrival, officers contacted a large group of subjects inside the residence," according to LBPD. "While conducting the search warrant, officers seized four large illegal gambling machines, four firearms, ammunition and approximately $2,000 in U.S. currency."
The department did not give details about how many people were discovered at the location or the types of firearms that were found there because the investigation is ongoing. Another photograph acquired by Casino.org indicates the four firearms were three pistols and a rifle.
Three Arrests
The three arrests included two men and a woman. Each was taken into custody on multiple felony charges.
Roland Amrikhas, 37, of Santa Ana, Calif. was arrested for illegal possession of a firearm and illegal possession of ammunition, He is currently in Long Beach City Jail on bail of $35,000.
Anh Ngo, 29, of Fountain Valley, Calif. and Rouet Nay, 46, of Long Beach, were taken into custody on charges of gambling stakes. Both are being held in Long Beach City Jail on bail of $10,000.
The case is expected to be referred to the Los Angeles County District Attorney's Office early this week, and the trio could face more charges once the DA examines the evidence.
In California, the illegal gambling stakes law applies to the illicit operation of a range of activities, including traditional table games like blackjack, poker, and roulette to being in possession of gaming devices, such as fish machines. First-time offenders in the Golden State can face up to $1,000 in fines, six months in jail, or both, according to state law.
Illegal possession of a firearm in the largest US state can carry jail time of up to three years and stiffer sentences for previously convicted felons.
California Gambling
California is home to about 100 cardrooms and more than 60 tribal casinos, but despite those legitimate properties being accessible by car for many Californians, the state still has a vibrant black market for gambling.
Just this year, authorities in Orange County broke up illegal gambling rings in Buena Park and Santa Ana while the Los Angeles Police Department (LAPD) took down an unauthorized gaming establishment in Koreatown in March.
Jennifer De Prez, a spokeswoman for LBPD, said the July 19 arrests were the first related illegitimate gambling in the Long Beach this year.
Legitimate tribal gaming in California generates approximately $8 billion in revenue per year, according to the state's legislative analyst's office.
Similar Guides On This Topic
Latest Casino Stocks:
Retrieving stocks data...
Retrieving stocks data...
Retrieving stocks data...
Retrieving stocks data...
Retrieving stocks data...