Live Horse Racing Lottery Game to Debut in Kentucky This Weekend
Posted on: March 28, 2019, 04:46h.
Last updated on: March 28, 2019, 04:46h.
On Sunday, the Kentucky Lottery will launch a new daily game that offers an in-person horse racing-twist to the traditional lottery-style game.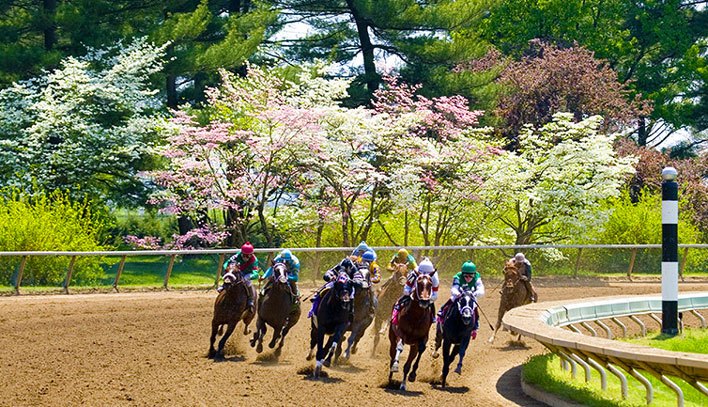 Shortly after 5 pm ET Sunday, the first Win Place Show game will take place. Like a traditional lottery, bettors will have a three-number combination on their ticket. However, instead of watching balls pop out of machines, players will watch a live horse race that will determine the game's outcome.
Brad Cummings, CEO of EquiLottery Games, came up with the concept. His company is partnering with the Kentucky Lottery for the game's rollout.
"This is the first-ever daily lottery game based on live horse racing," Cummings told Casino.org.
Sunday starts a three-month pilot launch for the game. The Kentucky Lottery will sell tickets at 45 retailers – 15 each in the Louisville, Lexington, and Northern Kentucky markets.
Tickets cost $2 each and come only as random quick-picks. That eliminates the skill element of handicapping.
"At the end of the 90-day trial period, we'll assess the game's results to see if it would be viable for a statewide rollout," Kentucky Lottery President and CEO Tom Delacenserie said in a statement.
Prizes will vary, depending on such factors as the number of horses in a race and the amount of money wagered. A player who holds the winning ticket could win up to $1,800. Those who have the three numbers in a different combination will also win a prize. So, too, will those who have two numbers in the correct order.
Keeneland, Other Tracks Featured
Lottery officials will select a race from 21 participating tracks across the country. In-state tracks will get first preference, but Cummings said they will also look at a race's post time and its number of entries. Cummings added that the tracks will get a share of the revenue, along with the Kentucky Lottery and EquiLottery.
Keeneland Race Course is a participating track and will be featured during the Lexington track's April meet.
"We're excited about the potential of this product to bring new fans to the sport of horse racing and create a new revenue stream for an industry so important to Kentucky's economy," Keeneland President and CEO Bill Thomason said in a release.
Millennial Appeal
Each ticket will include basic information about the race, including its location and post time. The ticket also features a link enabling the player to download a mobile application allowing them to watch the race. Available on both Apple and Android devices, the app also will allow players to set up accounts and track their winnings. If the game goes statewide, players could also buy a ticket online.
Cummings said the mobile aspect of the game should appeal to millennials. Initial focus group research showed nearly three-quarters of younger adults would buy a ticket. Two-thirds said they liked using the application to learn if they won.
Millennials enjoy authenticity, Cummings added. They also like experiential entertainment, and this game provides both. That also could help both horse racing and lotteries attract new – and younger – customers.
That's one of the things that the two industries have in common is an inability to connect with the Millennial generation, at least in a significant way," Cummings told Casino.org. "The research coming back was very interesting. The Millennial generation likes this game more than Gen X and more than Baby Boomers."