Legendz Sports Case Yields Millions in Fines for Law Enforcement Agencies
Posted on: May 24, 2015, 10:00h.
Last updated on: May 23, 2015, 12:07h.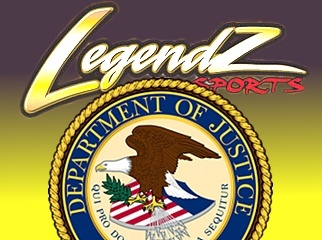 Legendz Sports' illegal activities just helped law enforcement agencies' bottom line in New York and Florida.
That's because various agencies in the Empire and Sunshine states are to benefit from $9.6 million in forfeited criminal assets for their roles in breaking up the illegal online gambling ring.
Forty people were arrested in April 2013 for activities related to Legendz Sports, a company that handled over $1 billion in bets and managed a large network of offshore sports betting websites.
Charges included racketeering, money-laundering, and wire fraud.
The case began in Albany County, NY, with local police investigating two prison guards who were suspected of acting as bookies for prisoners. From there, the investigation quickly spread across the US, as FBI offices in Miami, Oklahoma, and Boston coordinated with the Albany County Sheriff's office to intercept thousands of telephone calls and emails that would eventually lead to the arrests.
The founder of Legendz Sports founder, Bartice "Luke" King, from Oklahoma, is currently facing trial in Oklahoma City.
US Gamblers Targeted
Legendz sports, which was initially based in Costa Rica before relocating to Panama, and was accused by investigators of offering Internet and telephone gambling services almost exclusively to gamblers in the US.
The company allegedly used bookmakers located in the United States to "illegally solicit and accept sports wagers as well as settle gambling debts," prosecutors said.
The lion's share of the confiscated funds, some $4.66 million, will go to the Albany County Sheriff's Department, with the other $5 million to be split between three other local law enforcement agencies, as well as the FBI and the IRS, in accordance with the policy of "equitable sharing."
"In illegal gambling, money is both the way the crime is committed and the reason for committing it," said US Attorney Richard Hartunian. "Equitable sharing redirects these illegal proceeds toward the local law enforcement agencies who work with their federal counterparts and United States attorneys to dismantle large-scale criminal enterprises like this one."
Equitable Sharing Controversies
Equitable sharing is not without its critics, and has been frequently used to confiscate money from gamblers and from poker home games. Until very recently, it allowed state and local police to seize cash and property from detainees without the need for a warrant or criminal charge, and give the proceeds to federal agencies, a system that was open to abuse.
In April 2013, poker players William "Bart" Davis and John Newmerzhycky were stopped by a traffic cop in Iowa, ostensibly for failing to stop at a signal, although video surveillance in the patrol car later showed that this was not the case.
Police seized $100,000 in cash they found in the cars' trunk, which represented most of the players' poker bankrolls, along with a tiny amount of marijuana. While the pair eventually received $90,000 back of the $100,000 confiscated, they were forced to spend thousands of dollars in legal fees clearing their names.
Similar Guides On This Topic