Safe Bet That Legal Sports Betting Is Gaining Acceptance Across the States
Posted on: April 1, 2013, 05:25h.
Last updated on: April 1, 2013, 05:25h.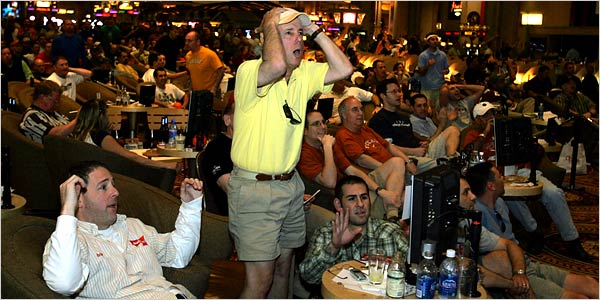 It's not a new observation: in a country still crawling back out from the worst recession in a century, legalizing sports betting is yet another effective way for states to dig out from under. Nevada, for example, will see wagers in excess of $200 million on March Madness sports book action alone, and that little piece of reality has other states eager to get on the bandwagon, despite NCAA and pro sports league opposition.
Other States Eyeing Legislation
Not surprisingly, New Jersey is already there: after a referendum vote by state residents, Gov. Chris Christie signed legal sports betting into law last year, at least for Atlantic City's twelve casinos and an additional four horse race tracks across the state.  California's State Senate approved a sports gambling bill last year which may be reintroduced into the Statehouse this year for another pass.  And Illinois is also considering allowing wagering on a legal basis.
NCAA Opposed
Not quite as pleased about it all is the NCAA, the organization that oversees all things regarding collegiate athletics. They've gone so far as to file a lawsuit with major sports leagues like the NFL, NHL, NBA and MLB, the leagues that cover football, hockey, basketball and baseball, claiming that allowing sports betting in New Jersey could "irreparably" corrupt sports in America. (Probably akin to saying that politicians accepting donations will ruin their otherwise virgin attributes, but apparently, that's all they could come up with.)  They've managed to pull the U.S. Justice Department to their way of thinking; the Feds got on board defending a 1992 measure that bans sports betting outside of Nevada (and a few other states which had grandfathered wagering in long ago.)
The NCAA took it so far as to cancel a few tournaments and events in the Garden State, adding that it would bar New Jersey from future sports event hosting opportunities, if sports betting went into effect. Hmm, we think that's called "blackmail."  They've got the courts in their favor, though; another federal judge recently upheld the ban, ruling against New Jersey; now the state is appealing, and it's expected it could go all the way to the Supreme Court. (We can't help but wonder if Ruth Bader Ginsburg knows a parlay from a prop bet, but we digress.)
Big Money
You can be sure, states are not going to let this much money go without a fight, however. For example, Nevada (one of the few states where no one is going to contest sports betting's legality) last year racked up $3.4 billion in sports wagers, a number that subsequently led to about $15-20 million in state tax revenues. Can you say cha-ching?
Meanwhile, the FBI estimates some $2.6 billion in illegal college basketball tournament action annually, and a National Gambling Impact Study Commission says that $380 billion is bet each year with illegal bookies who are sometimes part of a larger organized crime syndicate.
Contradictory Actions
Perhaps the most obvious argument for legalizing  and regulating sports betting state-by-state comes from none other than A.G. Burnett, chairman of Nevada's Gaming Control Board.  "We have been in this business for decades and haven't had any problems with … any of our universities," Burnett said. "The game-fixing scandals have happened in other states where gambling is illegal. What we have here is a regulatory process specifically to monitor what happens on both sides of the counter. This is all we do, and we're good at it."
Game on.