Lawsuit Filed Against Florida Casino Boat Operator, Captain Hailed for Quick Action
Posted on: January 25, 2018, 05:00h.
Last updated on: January 25, 2018, 11:40h.
Florida casino boat operator Tropical Breeze Casino, LLC, is being sued by a 65-year-old woman who survived the company's recent shuttle fire that forced passengers to jump off the vessel and ended with one person dead.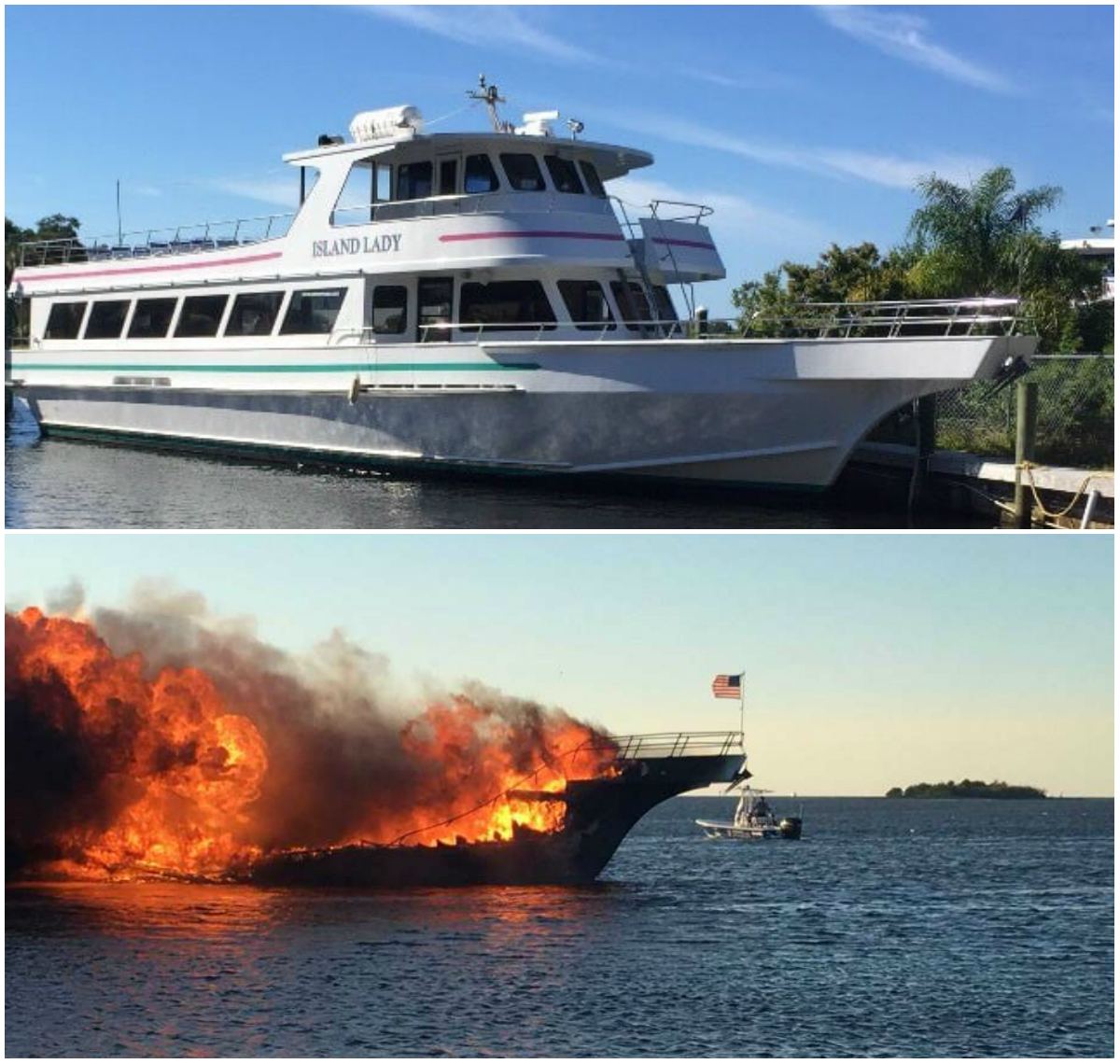 In a lawsuit filed in Pasco Circuit Court, attorneys for Debrah Jero allege Tropical Breeze's negligence resulted in her suffering "serious physical injuries from the forced jump from the fire-engulfed vessel." She's seeking $15,000 according to the filing, but that number could increase during litigation.
On January 14, Tropical Breeze's Island Lady, a 72-foot shuttle vessel that transported patrons from the Port Richey, Florida, dock to the floating casino, erupted in flames just moments after its evening departure. Within minutes, all 50 passengers and crew were forced to jump from the vessel into the water and swim some 100 yards back to shore.
More than a dozen people were rushed to a nearby emergency room. One woman, a 42-year-old widow and mother of 12-year-old twins, later died.
A host of variables remain unknown surrounding the accident. Tropical Breeze says the Island Lady was inspected in March 2017. But it's also come to light that the boat's captain has endured substance abuse problems in the past, and had undergone treatment as recently as 2014.
Mixed Reports
Captain Mike Batten's record, which includes a DUI and misdemeanor marijuana conviction, three citations for driving on a suspended license, concealed weapons arrest, and contempt of court arrest for failing to pay child support, has been called into question by the media. But Port Richey officials say the captain likely saved lives.
Batten reportedly turned the boat around and headed back to shore upon noticing electrical problems. He then grounded the boat in shallow waters before informing passengers to jump.
Port Richey Police Chief Gerard DeCanio said this week, "Had that captain not brought it closer and run it aground … I think we would have had a lot more fatalities."
However, some passengers said the casino staff was less than hospitable. A TripAdvisor review from a passenger claimed, "When the boat caught fire they pushed people over the railing. No good evacuation plans, the staff were jumping off the ship before the passengers."
Boat Inspected, Captain Licensed
The Tropical Breeze Casino operates under maritime law, which takes effect once the boat is at least 12 miles from shore. The US Coast Guard's investigation is ongoing, but did confirm that the Island Lady held a valid Certificate of Inspection, and Batten held a 100-ton captain's license.
The National Transportation Safety Board (NTSB) is also investigating the accident.
Tropical Breeze said the Island Lady was put into operation in late 2015. "In the two years the company has used it, the vessel has safely transported thousands of passengers," a statement declared.
Onboard passengers said they were notified by crew that there was some sort of electrical fire, and were instructed to move to the top deck. Moments later, with the fire raging, there was no other option other than to evacuate.
Similar Guides On This Topic
Latest Casino Stocks:
Retrieving stocks data...
Retrieving stocks data...
Retrieving stocks data...
Retrieving stocks data...
Retrieving stocks data...