Las Vegas Strip Bans Coolers and Backpacks From Future Public Events
Posted on: June 22, 2016, 12:47h.
Last updated on: June 22, 2016, 02:02h.
The Las Vegas Strip may have gotten more secure this week, following a unanimous vote by the Clark County Commission. The move will make it illegal for tourists and locals to carry bags and backpacks of certain sizes during notable public events. It will also encompass certain types of coolers.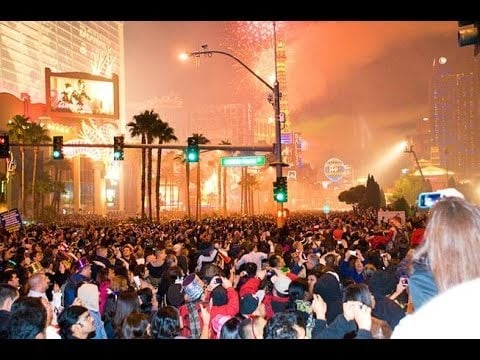 The ordinance restricts purses larger than 12 by 6 by 12 inches, and also bans event attendees from carrying briefcases, coolers, backpacks, fanny packs, strollers, computer cases, and camera bags during certain happenings.
Not surprisingly, New Year's Eve was of the highest concern to the commission, but the order will likely be enacted during other holidays as well, such as St. Patrick's Day. Certain high-profile, high-attendance occasions, such as the popular eating festival Vegas Uncork'd, will also be subject to the new rules.
Following the San Bernardino, California, shooting on December 2 that left 14 dead, Las Vegas Metro appealed to the Clark County Commission to outlaw bags and coolers for New Year's Eve 2015. Per state law, the ordinance could not be adopted in time for last year's event, however. This week's vote is a follow-up to that previous law enforcement request.
Necessary Measure
Las Vegas, like nearly every major American city, is now considered a possible target of extremists and terrorists. With the recent mass murder of 49 in an Orlando gay nightclub, enforcement in Sin City has, not suprisingly, tightened up when it comes to possible vehicles for weapons and bombs, particularly in situations that attract very large crowds.
And the recent advent of a would-be killer of GOP candidate Donald Trump while campaigning at the Treasure Island casino in Las Vegas can only have heightened the urgency for such a measure.
"It's an important tool for Metro to have in their toolbox," Nevada Resort Association President Virginia Valentine told the Las Vegas Sun recently.
Violators of the bag and cooler regulation could face a fine of up to $250, and those who refuse to comply could be sentenced to as many as 30 days in jail, per the ordinance.
Open for Business
The tourism industry is the lifeblood of Las Vegas, of course. The city attracted 45.3 million visitors in 2015, generating an impact on the local economy to the tune of $50 billion.
Several recent events, including a deranged woman mowing down pedestrians in front of Planet Hollywood last fall and that failed assassination attempt on Trump, might leave would-be visitors a bit unsettled. Metro Police want those potential travelers to know that Vegas remains safe and secure.
"The Las Vegas Metropolitan community has always been, and remains, one of the safest in the country," the agency says on its website. "The Las Vegas Metropolitan Police Department prides itself on partnering with the community to ensure public safety."
The iconic advertising slogan "What Happens in Vegas, Stays in Vegas," doesn't extend to any suspicions that visitors may take note of, authorities maintain. Law enforcement wants everyone who comes to Sin City to feel comfortable speaking up when they see something suspicious.
As in other major US cities, such as New York, the more appropriate motto when it comes to safety would be the Homeland Security credo, "If you see something, say something," authorities insist.
Meanwhile, pack light for your next trip to America's gambling epicenter.