Las Vegas Sports Books Might Profit Off CBS Dispute with Cox, No Superbowl Likely for Sin City Cable Users
Posted on: February 1, 2016, 04:58h.
Last updated on: February 1, 2016, 09:08h.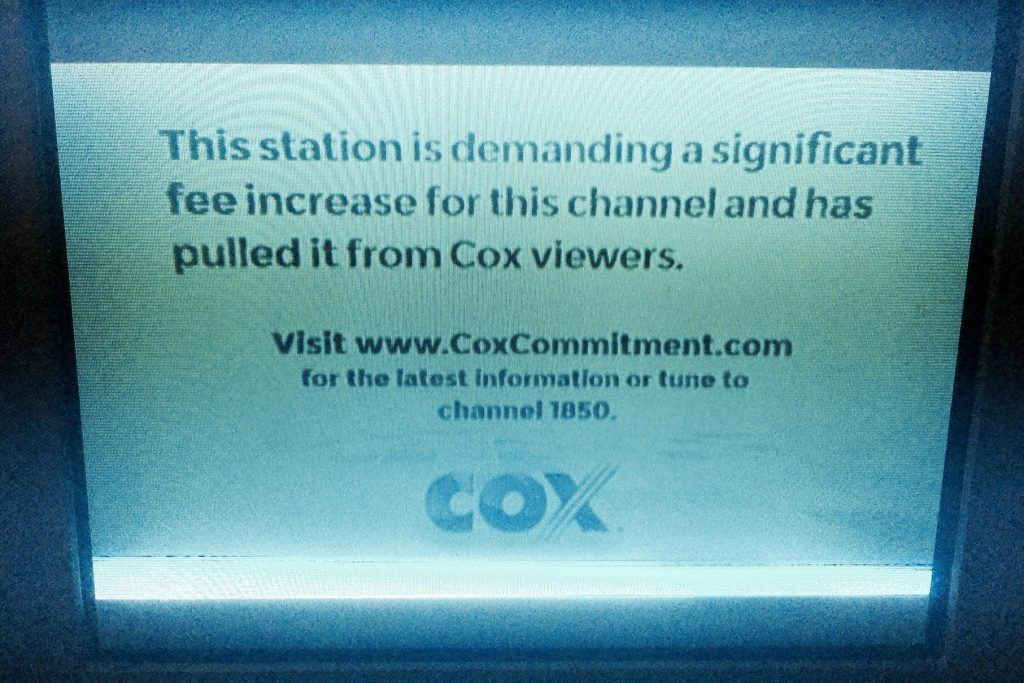 CBS is airing the most-watched football game of the year this weekend, but Las Vegas residents won't be able to enjoy it in their own homes if they are cable TV customers. A major rate dispute has put local CBS and Cox Communications in locked-horn battle, and the biggest losers right now are Sin City viewers.
Meanwhile, Las Vegas sports books are gearing up for their busiest weekend of the year, as Super Bowl 50 goes down this Sunday. More than 300,000 tourists are expected to descend on the gambling capital of America to place their bets on football's biggest game of the year.
Over $115 million is expected to be wagered legally in Las Vegas for the big game, but that money might substantially increase thanks to that contract dispute between cable TV provider Cox Communications and local CBS affiliate KLAS-TV Channel 8.
At 11:59 PM local time on January 29, CBS went off the air to Cox subscribers in LV, and was replaced with a static screen accusing Channel 8 of "demanding a significant fee increase" that resulted in the station being pulled.
CBS has the broadcast rights for Super Bowl 50 between the Denver Broncos and Carolina Panthers, of course. The iconic American event kicks off at 6:30 PM EST on February 7th.
Super Impact
The significance in Cox failing to come to terms with the CBS affiliate owned by Nexstar Broadcasting Group is monumental with the Super Bowl less than a week out. Cox is the largest cable television supplier for Las Vegas' nearly two million residents.
The blackout could lead to locals venturing to the Strip or to downtown casinos to watch Super Bowl 50 in sports books lounges among both bettors and tourists. Instead of Las Vegans gathering in their homes for NFL parties and casual betting, they might venture into casino sports book to watch Peyton Manning try and win his second NFL championship ring.
And theoretically, at least, more casino patrons would lead to more total wagers.
Power Struggle
The CBS dispute concerns how much Cox should pay Nexstar to obtain the rights to broadcast KLAS-TV. Cox alleges that Nexstar is looking to boost its own bottom line by ramping up retransmission fees.
"Nexstar has not changed their offer in two weeks and is still demanding three times more for its free over-the-air stations for Cox customers."
Nexstar portrays a different story, naturally, claiming "Cox's ill-advised action" deprives viewers of "local news and programming produced specifically for these local communities."
The two sides are arguing over pennies, but those cents quickly add up.
Cox and other cable service providers pay on average less than $1 a month per household to distribute local network affiliates. By comparison, ESPN receives around $8 from Cox each month per subscriber, according to the Las Vegas Review-Journal.
Nexstar is looking to enhance revenues by increasing its retransmission fees, but Cox says the surcharge would impair its own goal of providing "free" TV to its customers while "meeting our responsibilities to provide … the most value."
"Free" is a bit of a misnomer, of course, as Cox, like all cable providers, charges customers its own monthly fees, based on packages that can include movie channels, DVRs, and other add-ons. Even a basic channel lineup still costs with the cable company.
Cox and Nexstar are continuing their negotiations, but as of now, the only thing the two agree on is that they hope to reach an agreement before Super Bowl 50 kicks off on Sunday.
The Cox/Nexstar holdout is just the latest development in Las Vegas that has locals in an uproar. Two weeks ago, MGM Resorts announced it's doing away with free parking at 11 of its properties along the Strip, tacking on a $10 surcharge per day for even self-parking privileges.
That move has caused so much outrage among local residents that MGM CEO Jim Murren, who said he'd predicted some ire from the Las Vegas populace, was taken aback by the vitriol.