Las Vegas Casino Robber Shot Dead by Police in Rio Parking Lot
Posted on: December 10, 2014, 05:54h.
Last updated on: December 10, 2014, 05:58h.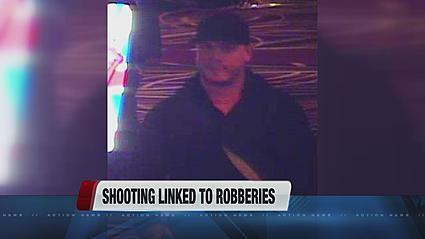 A Las Vegas casino robber at the Rio All Suites Hotel was the scene of a police shooting this week.
Las Vegas Metropolitan police officers killed a suspected armed robber in the casino parking lot as he attempted to resist arrest. Officers said the man, who has since been identified as Anthony Wade Moore, was the prime suspect in several casino robberies in the Las Vegas area. Moore was pronounced dead at the scene.
Police Post Video About Incident
As America reels from recent controversies surrounding recent high-profile police killings, Metro Police were quick to release a public statement about the threat the 31-year-old heavily built white male, who was armed at the time of his death, posed to police and the wider public.
"Over the last few months a number of casino robberies have occurred in the Las Vegas Valley," said Las Vegas Metro PD Captain Matt McCarthy, whose video statement was uploaded onto YouTube by police. "Our detectives have conducted investigations on these robberies, and this morning our repeat offender detectives were following a subject whom they believed was the suspect in these robberies."
Claimed to Have Explosives
McCarthy described Moore's MO, which was to enter a casino and engage one of the clerks in conversation before producing a firearm and demanding cash. In some of the robberies he claimed to have explosives on him, McCarthy said. While investigators have yet to reveal all the details in the case, Moore is believed to be behind a robbery that took place at Sunset Station on November 22, in which he made his escape with an undisclosed amount of cash.
"During the course of this investigation, we learned that this subject …was at the Rio Hotel," said McCarthy. "Our Repeat Offenders Program detectives conducted surveillance on him over the last several days, and this morning they confronted that subject. When they did so he did not comply with their commands, so the detectives tased the subject.

"The subject struggled, put his hands towards his waist and the officers shot the subject," he continued. "We recovered a forearm from the subject from around his waist area, which was the location of where he was putting his hands."
Criminal History
The officer who fired the deadly shot was later identified as Sean Beck, 43, who has been with the Metro for 15 years and is assigned to the career criminals section. He has been placed on routine paid administrative leave, pending an internal review.
Court records show that Moore had a criminal history dating back to 2003, when he was arrested on charges of domestic violence. He was arrested again last March on charges of assault, weapons use, and criminal mistreatment, and then again on July 21 on drugs charges. Released on probation on November 1, Moore absconded, evidently to Las Vegas were he embarked on his fatal and final crime spree.
Police say they are unsure just how many robberies he was responsible for. According to the Las Vegas Review-Journal, a man fitting Moore's description was wanted in connection with a robbery at the Palace Station on November 9. Police declined to comment on whether he was suspected of being involved in the incident.
Similar Guides On This Topic