Potential Las Vegas NFL Stadium Receives $750 Million in Public Funding
Posted on: September 16, 2016, 12:42h.
Last updated on: September 16, 2016, 12:48h.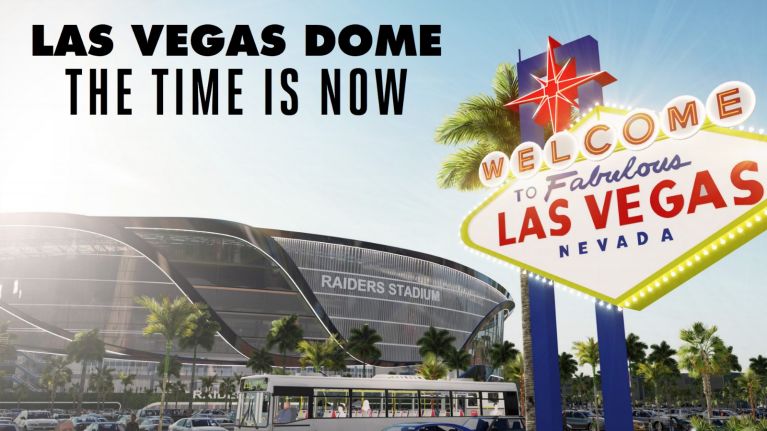 The Las Vegas NFL stadium being proposed by billionaire Sheldon Adelson and Oakland Raiders owner Mark Davis received a critical vote in its favor this week.
On September 15, the Southern Nevada Tourism Infrastructure Committee (SNTIC) voted unanimously to provide the football stadium project with up to $750 million in public funding. Davis has already committed $500 million to the build.
The total estimated cost of the 65,000-seat domed stadium is $1.9 billion. The remaining capital would reportedly come from private investors including Adelson.
"We get an NFL team . . . those teams bring the community together," SNTIC Chairman Steve Hill told reporters after the meeting. "We're going to have people wearing Raiders jerseys and high-fiving each other. That's not something you can put a number on."
SNTIC will use hotel occupancy taxes to cover its $750 million commitment.
Adelson's team has proposed adding a "Stadium Project Tax Increase" to every hotel folio that would range between 0.70 and 0.88 percent. On a $109 room charge, that would equate to $0.76 and $0.96 levied on the guest.
"I think we've all dreamed of this day, and it's about to come to fruition," Andy Abboud, Adelson's right-hand man said.
Even Billionaires Need a Little Love
The SNTIC recommendation will now move forward to Carson City and Gov. Brian Sandoval (R).
The Nevada Legislature will also need to sign-off on the financing plan before any actual movement can occur. The state legislature isn't expected to reconvene until February 6, 2017, meaning Sandoval might be wise to call a special legislative session if he supports the SNTIC vote.
A two-thirds approval from NFL owners on Oakland's move to Sin City would be the final hurdle for Davis to clear.
Critics to using tax revenue to fund a football stadium are aplenty. Opponents are questioning why valuable tax revenue is going to aid Adelson's plans, a man who is estimated to be worth $30 billion.
MGM boss Jim Murren has stated he'd prefer those SNTIC dollars going to improve the Las Vegas Convention Center. Murren's company is a 50 percent owner of the new T-Mobile Arena.
Hoping for Losses
It what seems like the plotline of the classic 1989 sports comedy "Major League," Davis might be hoping the Raiders do not have the most successful season this year.
Minus the team's years in Los Angeles between 1982 and 1994, the storied franchise has called the Bay Area home since 1960. It's won the Super Bowl three times during that span, but the team has severely struggled in recent years.
Oakland hasn't been to the playoffs since 2002, the second-longest playoff drought in the NFL.
Expectations aren't high for the team's 2016 campaign. But the Raiders edged the New Orleans Saints by a point in week one to go 1-0.
Though it's been 14 years since the Raiders made the postseason, the fan base is still loyal and enthusiastic.
Moving the Raiders to Las Vegas would provide a fresh start for the team founded by Davis' father Al Davis. He owned the team and was a Raider icon for 45 years during the ups and downs.
However, it would be difficult to imagine the team returning to its glory days this season and making the NFL playoffs, Vegas odds currently put the Raiders at a long shot to continue past the last regular season game in week 17.