Las Vegas Culinary Union Settles with Caesars Entertainment, as MGM, Other Casinos Continue to Hammer Out Contract Terms
Posted on: June 1, 2018, 08:21h.
Last updated on: June 1, 2018, 08:22h.
The Las Vegas Culinary Union strike that could have destroyed the city's economy is at least partially averted. At 2 am Pacific Time Friday morning , at least 12,000 casino workers at nine properties found out they'd reached tentative terms for a new five-year deal with the second-largest gaming operator on the Las Vegas Strip.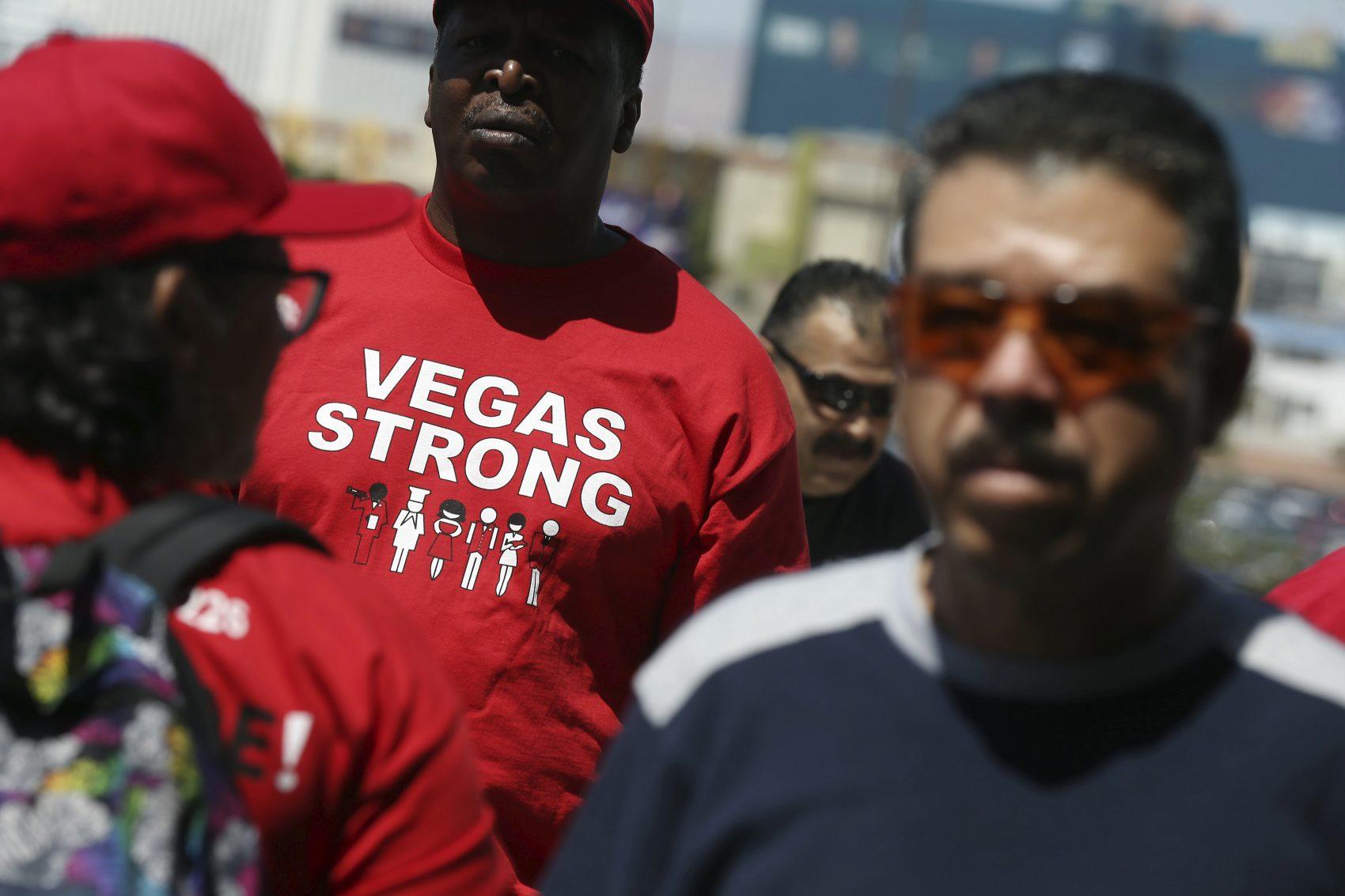 But MGM resorts — the largest casino owner in Las Vegas with 10 venues — is still hammering out their own deal, hoping to avert a strike which technically could still happen now that Culinary Union contracts have expired.
SLS, Stratosphere, The Tropicana, The Westgate, and The D downtown also remain in jeopardy as talks continue.
Nevada's largest union represents kitchen workers, cocktail and food servers, bartenders, guestroom attendants, and porters. Union officials are seeking increased wages and benefits, measures to combat sexual harassment, and guarantees from casino operators that workers will receive advanced skill training and not be replaced by digital technologies.
On May 22, 99 percent of voting union members supported authorizing a strike should new terms not be reached in their favor and in a timely manner. A walkout has always been considered a "last resort," according to union leaders, and negotiations are continuing past the contract expirationfor the remaining casinos.
Details of Caesars' new five-year agreement with the Culinary Union have not yet been released.
Negotiations Ongoing
A strike is something neither side of the negotiating table wants to see take place. Union representative Bethany Khan told the Las Vegas Review-Journal this week that the group is " … focused on negotiations. We have not set a strike date yet."
They have, however, set up a "Strike HQ." Located next to the Culinary Union headquarters in the Gateway District north of the Strip, members began making thousands of picket signs on Friday morning.
Culinary Union leaders are seeking a four percent raise increase. With members currently paid an average hourly wage equivalent to $23 when all benefits are factored in, the increase equates to about 92 cents per hour. MGM and Caesars had countered with a 2.7 percent increase. The union didn't at what pay scale its tentative agreement with Caesars was finalized.
"The companies are making millions and millions of dollars. They are growing and that's excellent. We want them to share with the workers their success," said Culinary Union Secretary-Treasurer Geoconda Arguello-Kline.
MGM — Nevada's largest employer and the owner of the most casinos in Las Vegas — said in a statement that it's confident the company will "resolve the outstanding contract issues and come to an agreement that works for all sides."
Much at Risk
The financial impact of a strike would be substantial. Nearly 80,000 convention attendees are in town for two trade shows, and the Vegas Golden Knights will return to T-Mobile Arena for Game 4 of the NHL Stanley Cup Final on Monday.
The union had said it believes MGM and Caesars would collectively lose $10.5 million a day should their members walk off the job.
The last time the Culinary Union went on strike was back in 1984, when some 17,000 workers picketed for 67 days. The strike cost both casinos and workers tens of millions of dollars in lost revenue and wages.
Similar Guides On This Topic