As Las Vegas Mandalay Bay Route 91 Harvest Shooting One-Year Anniversary Nears, a City Still Stricken Braces to Remember with Tributes
Posted on: September 6, 2018, 03:15h.
Last updated on: September 6, 2018, 03:20h.
It's hard to believe almost a year has passed since shooter Stephen Paddock sprayed bullets down onto a crowd below his 32nd-floor Mandalay Bay window, hitting hundreds of fans of the Route 91 Harvest country music festival outside. And while most of America may have moved on to other, more recent tragedies, Las Vegans are still very much shaken by the events of that dark night.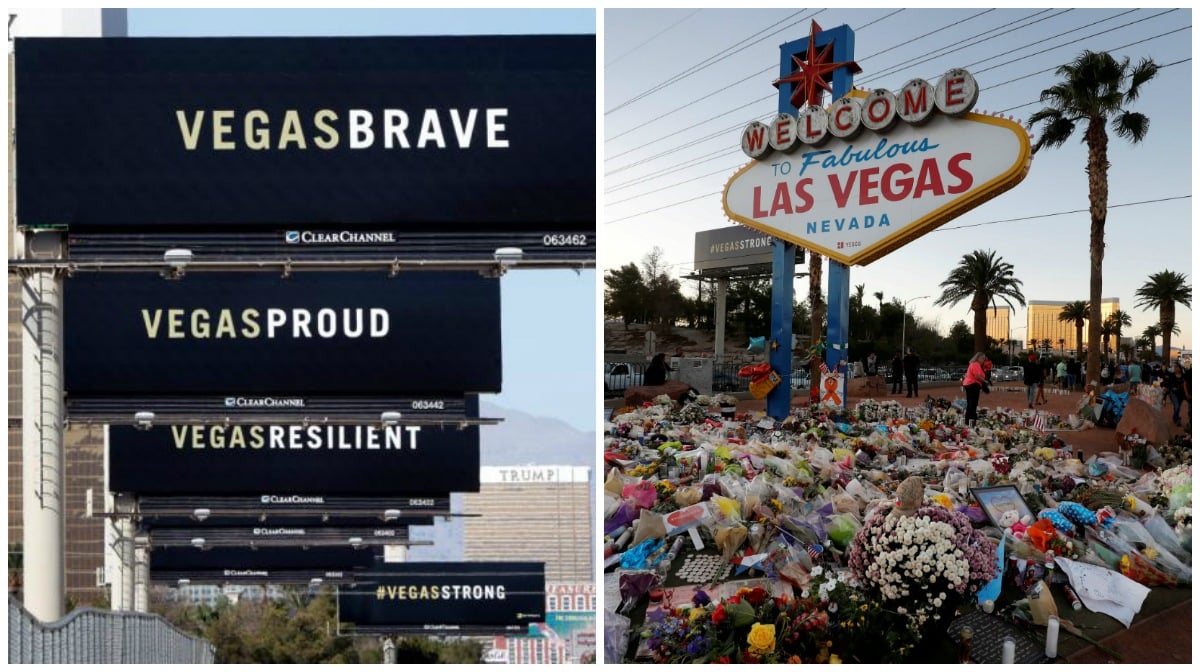 To commemorate it, much of the Las Vegas Strip will go dark at 10:01 pm PT on October 1 as a way to pay tribute to those who lost their lives during the city's most traumatic day one year ago.
The Las Vegas community has assembled numerous events to remember the 58 dead and more than 500 others who suffered injuries on the night of October 1, 2017. A motive for the gunman carrying out the deadliest mass shooting in modern US history remains unsolved as the one-year anniversary approaches.
County officials say property marquees along the Strip and throughout the Las Vegas Valley will go dark to commemorate the lives lost and those injured. The 10:01 pm start time is four minutes before the shooting began from the 32nd floor of Mandalay Bay.
Commemorative Activities
Beginning September 17, a complex located at 500 South Grand Central Parkway will display 58 portraits of the victims painted by volunteer artists from around the world. The 58 crosses that were staged at the Welcome to Fabulous Las Vegas sign last fall will also be on display.
On Sunday, September 30, runners and walkers can participate in the Vegas Strong 5K or one miler, with the net proceeds of the race going to shooting victims. The event begins and ends at Fremont Street between 9th and 10th streets.
On October 1, the Metro Police Department and Clark County Fire Department will gather at 6:30 am outside the Clark County Government Center for a sunrise remembrance. According to the event listing on the Las Vegas Newswire, the service will feature a choir and multi-jurisdictional honor guard, as well as 58 seconds of silence.
The Las Vegas Healing Garden (1015 S. Casino Center Blvd.) will dedicate its remembrance wall at 6:30 pm on October 1. At 10:05 pm, the 58 names of the dead will be read.
Permanent Memorial Still Lacking
Las Vegas will one day become home to a permanent memorial where families can visit to remember their loved ones. But Clark County Commissioner Steve Sisolak (D), who is presently in a tight race with Nevada Attorney General Adam Laxalt (R) to become the state's next governor, believes a minimum of a year should pass before formal discussions on a memorial begin.
Las Vegas is adhering to lessons learned in other parts of the country where local communities built memorials too quickly after tragedies, only to receive heavy criticism from survivors and victims' families who took issue with their designs and implementations.
The Las Vegas Convention and Visitors Authority says it will assist and make financial resources available for a memorial, which could cost several million dollars, depending how large it ends up being and where the space for it to be housed is located.
In July, the Clark County Commission nominated current Nevada Governor Brian Sandoval (R) to oversee a committee responsible for designing, funding, and building the memorial.
Similar Guides On This Topic
Latest Casino Stocks:
Retrieving stocks data...
Retrieving stocks data...
Retrieving stocks data...
Retrieving stocks data...
Retrieving stocks data...