Las Vegas Casino Operators Bid Adieu to Witch Hunters of Massachusetts
Posted on: November 5, 2013, 05:30h.
Last updated on: December 4, 2013, 05:43h.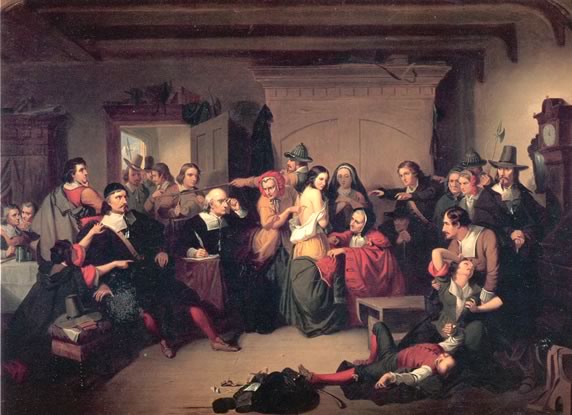 Many U.S. states, if they haven't exactly copied the Nevada model to a "t", have had great success building and marketing land casinos that certainly emulate the American gambling mecca. But for some reason, Massachusetts can't quite get with the gambling paradigm; maybe it's the ghost of the Salem puritans, still lurking via regulators and commissioners, but in more modern garb.
Backing Out of the Game
What the Las Vegas casino industry initially bent over backwards to become a part of – from Wynn Resorts to Caesars Entertainment to MGM Resorts International – is seeing more and more attrition as industry moguls find the standards and investigations of the Massachusetts regulatory powers to be bordering on ridiculous – if not, in fact, having crossed the border right into absurd.
So now – two years after the East Coast state opened its doors to eager proposals from all the big industry players for just three casinos, one each in specific regions of the state – the tides are turning, and some of these players are thumbing their noses at the Mass. regulators, with a possible quietly flipped bird under the table.
Hey, they're not playing with kids here.
The three distinct areas – one in the west, one in the southeast, and one in the Boston area – are looking less and less desirable to operators who, while well used to regulatory procedures, are not about to have every crust of bread and cookie crumb they ever ate examined by this group of commissioners to this degree of minutiae. And what started out as a predictably slow licensing process, has emerged as one that seems, to more than one candidate, interminable, and possibly not even worth the time, money and scrutiny involved.
Just to catch you up, here's where the initial players stand now: Caesars Entertainment Corp., – after being maligned for an association with a non-Massachusetts project alliance (Gansevoort Hotel Group) for that company's third-party alleged connection with some Russian mob figures – said "see ya" to their prior $1 billion partnership with Suffolk Downs racetrack in Boston.
Steve Wynn all but lost it with the regulators a week before that when they made disparaging remarks about his Macau operations and insinuated Chinese crime boss ties in that arena. Wynn pretty much told the commissioners to take their casino and shove it, and many think he may soon cut his losses on the hundreds of millions he's already poured into a proposed $1.3 billion project in Everett outside of Boston, and say "kiss my assets goodbye."
And Then There Was One
Sheldon Adelson's Las Vegas Sands Corporation must have anticipated the Macau scrutiny, because they never even bothered to apply for a license in Massachusetts. So all that leaves is lone applicant MGM Resorts International, who are still vying to put their $800 million casino resort in Springfield, in the western part of the state; but city fathers – seeing how the winds are blowing out of Las Vegas now – are already nervously questioning who will take MGM's spot if the state's commissioners deem the casino operator to be not up to their rather-holy-for-the-gambling-industry standards.
The Massachusetts Gaming Commission – which was only thrown together last year – is even getting criticism from a seemingly unlikely source: the Nevada Gaming Control Board. Nevada's Board Chairman A.G. Burnett noted recently that his colleagues back East were using private investigators to conjure up "gotcha gaming regulation."
"We understand transactions and licensing agreements," Burnett said. "We understand how the (Caesars-Gansevoort) relationship worked. Regulators need to be both reasonable and intelligent."
So far, at least, MGM Resorts Chairman Jim Murren is still being polite about the Mass. commission, claiming he is sure his outfit will be found suitable for the Springfield project. But given the commission's recent track record, it's anyone guess if Murren's enthusiasm will hold up.
"We have complied with everything they have asked of us," Murren said. "Our response to the RFP will be about a thousand pages. At the end of day, when you look at all the facts, I see no reason why we won't be found suitable."
Of course, Caesars' Gary Loveman and Wynn's Wynn also saw no reason they wouldn't be found suitable, until recently. And even Murren admits, there have been some curve balls thrown in this move East.
"It's been a surprising couple of weeks. There is no doubt about that," the MGM honcho said.
Similar Guides On This Topic