Kazuo Okada's Manila Casino Project Could Reach $4 Billion
Posted on: July 20, 2016, 03:59h.
Last updated on: October 12, 2016, 03:40h.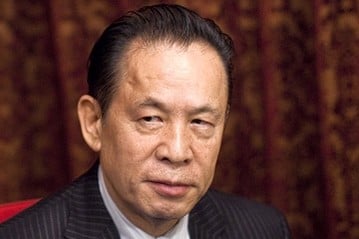 Kazuo Okada, the billionaire chairman of Universal Entertainment Corp and Tiger Resorts Entertainment Inc, could be upping his investment in Manila to $4 billion, as he seeks to transform the Philippine capital's "Entertainment City" into the new Macau.
This would represent Okada's biggest investment of all time, said Takahiro Usui, COO of Tiger Resorts this week.
Usui also revealed that the fruit of this investment, a 993-room hotel and casino resort scheduled to open in November, has a new name. The project formerly known as "Manila Bay Resorts" has become "Okada Manila," which suggests the Japanese gaming mogul has learned a thing or two from his former business partner-turned-foe Steve Wynn, and of the value of plastering your name across the front of a casino.
Wynn Feud
Okada was a Wynn Resorts executive and a major shareholder in the company, until he was ousted in 2012. The 73-year-old Japanese businessman, who made his fortune manufacturing Pachinko machines, had initially expected his old friend Wynn to come on board with the Manila project when he received a gaming license there in 2008.
Okada had bailed Wynn out to the tune of $455 million to help finance the completion of Wynn Las Vegas and Wynn Macau, for which he received a 20 percent stake in Wynn Resorts.
But Wynn felt that the project might endanger his licenses elsewhere. Somewhere along the line, the relationship fell apart completely and has since descended into ongoing litigation. Wynn Resorts has accused Okada of making improper payments to Philippine gaming authorities in order to secure the license, an allegation Okada denies.     
Saturation Warning
On completion, the cost of the resort, initially expected to be around $2.3 billion, could to rise to $4 billion, once several additional phases of non-gaming amenities are introduced. These include a 330-foot high dancing water fountain and indoor beach.
Meanwhile, Okada is looking at developing additional casino projects around the Philippine islands, including Palawan and in Davao.
Tiger Resorts said this week it planned on focusing on the locals market during its first 12 months of operation before going after Japanese and Korean punters, as well as Chinese VIPs fleeing the anti-corruption crackdown in Macau.
But some analysts are warning of oversaturation once the Okada Manila is completed, in a market where Solaire and the City of Dreams Manila are already competing for space.     
"Okada is coming to town, a grim reminder to investors of the oversupply facing an industry that is already competitive," Jonathan Ravelas, chief market strategist at BDO Unibank Inc, told Bloomberg this week. "This is a serious property and the question is who among the existing players will get hit the most. This is the time to capitalize on gains."