Just Say "Nyet" to Gambling: Authorities Crack Down on Russian Illegal Gambling
Posted on: March 4, 2013, 02:36h.
Last updated on: March 11, 2013, 01:04h.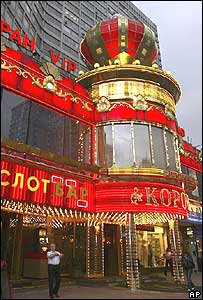 Who doesn't think of empty bottles of Vodka and smoky backroom card games when you think of Russia? Apparently, not the Russian authorities, who have started a major sting to shut down illegal gambling parlors in several of the country's key cities, including Moscow, Khimki and Pushkino (you've heard of Khimki and Pushkino, right?).  Russian news outlets report that 36 illegal casinos have already been shut down around Moscow, and 440 gaming machines, seven poker tables, 26 additional machines that accept cash and one million roubles have been confiscated to date. Before you get too excited about the million rubles part: it's only about $33,000, or not even a grand per casino.  Apparently these places are either really good at hiding their cash stash, or the economy in Russia is even worse than in Greece.
Authorities Move In
Eight other cities that no one outside of Russia proper has ever heard of were also pinpointed by the country's Interior Ministry's Main Economic Security Department. Much like "massage parlors" in the West, these establishments were legitimate front businesses with back-room betting parlors; businesses such as restaurants and Internet cafes. (Images of a 1920s speakeasy come to mind, with patrons going around back and whispering a password to Igor for entrance.)
Vladivostok's "Casino Zone" a Slow Sell
Meanwhile, over in exciting Vladivostok, plans for a new "casino zone" apparently haven't been met with quite the excitement anyone would expect in a climate that hits an average of 10 degrees Fahrenheit in winter.  The administrative center of Primorsky Krai, Russia, (and not far from the borders with China and fun-loving North Korea,) Vladivostok has not proved to be a huge pull to investors for its planned legal gambling zone.  Out of 17 slots made available, only five have been grabbed up to date; foreign operators Global Gaming Asset Management and NagaCorp being among them. Seems people who think "gambling vacay" don't immediately jump to a port city in Russia that's not far from where the next nuclear missile could be launched at any time.
Gamblers Could Lose Rights
Ironically, Russia has had a long-standing ban on casinos (and we thought all that went out the window once capitalism moved in).  The paternalistic viewpoint on gambling's evils are so entrenched that Russian lawmakers recently adopted amendments that give the powers that be the authority to take over an individual's financial life and place them under state guardianship if they are shown to be "incompetent" when it comes to their gambling proclivities; no word on how this is determined or what the standards are or if individuals have any kind of appeals process.
Maybe the sign on the Vladivostok casino zone entrance should read: "Welcome, comrade! No, not you, you're Russian, you're under arrest."
Similar Guides On This Topic