Jersey City $4.6 Billion Casino Resort Proposed for North Jersey
Posted on: July 11, 2014, 05:30h.
Last updated on: July 9, 2014, 08:15h.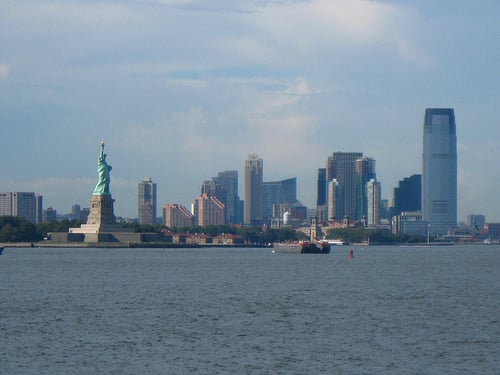 Venture capitalist Paul Fireman wants to build a $4.6 billion casino resort in Jersey City, according to reports by the New Jersey press. State Governor Chris Christie recently declared his openness to the expansion of casino gaming into North Jersey, and it appears Fireman, who is a former CEO of Reebok and now runs Fireman Capital Partners, is working hard to make it happen.
The businessman has been meeting with New Jersey politicians over the past month to discuss his proposal for a 95-story hotel and casino rising above New York Harbor that would also feature a motorsports stadium and "the largest Ferris wheel in the world."
Atlantic City, which has always had the monopoly on casino gaming since the first property opened there in 1978, has lately been in dire economic straits. Despite injections of cash and a five-year plan to rejuvenate the city, spearheaded by Governor Christie in 2011, its casino market failed to bounce back from the recession, as had been hoped.
Furthermore, it has been hit hard by new competition from neighboring states such as Pennsylvania, which has superseded New Jersey as the second biggest casino market in the US, after Nevada. And while Atlantic City casinos like The Showboat and Revel contemplate closure, Christie has apparently been forced to concede that a new tactic is needed.
Good News for AC?
But far from hurting Atlantic City, many analysts believe that an expansion in the north will help the ailing resort. The proposed resort in Jersey would sit right across the harbor from Manhattan, and would act as a bastion, protecting New Jersey from further competition from the new casinos planned for upstate New York, diverting New Yorkers and vacationers away from those casinos, while gathering revenue that could help develop Atlantic City.
State Senate President Stephen Sweeney agrees.
"This conversation is going to be had because it has to be had, but it won't be had at Atlantic City's expense," he said. "If anyone thinks that I'm not committed to Atlantic City, they're crazy. We can't ignore that competition is going to be in New York shortly. But if New Jersey responds by opening a casino in North Jersey, it should happen in a way that will truly benefit Atlantic City. Right now we tax casinos at eight-and-a-half percent. Maybe we set a new tax rate for a casino in the north and a portion of that that's significant enough to help Atlantic City comes to Atlantic City."
"It Will Blow Away Macau"
While casino expansion into North Jersey would require an amendment to the state constitution, Sweeney said recently that he was willing to allow citizens to vote on such an amendment next year. And while details of the proposed development in Jersey City remain few and far between, it seems that Fireman has convinced some people in high places already.
Jersey City Mayor Steve Fulop expressed his excitement this week about a "world-class facility that includes a casino, hotel and convention center as well as the largest Ferris wheel in the world all located next to the best park in New Jersey (Liberty State Park)." He added that the project would "create 25,000 jobs" and attract "over $5 billion of investment."
"It's huge," said state Senator Raymond Lesniak, who has met with Fireman. "It has the wow factor … It will blow away Macau as a destination place for gaming."
Similar Guides On This Topic