Intralot CEO Kokkalis at Center of New Zealand DIA Contract Questions
Posted on: February 6, 2014, 05:30h.
Last updated on: February 5, 2014, 09:10h.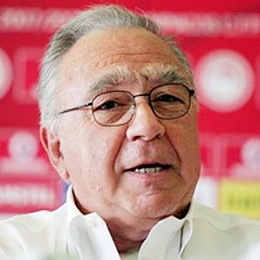 New reports regarding New Zealand's Department of Internal Affairs (DIA) having entered into a contract with Intralot NZ are causing quite a stir globally. As background, Intralot NZ – which is a subsidiary of a Greek parent company that supplies integrated gaming, sports betting management and transaction processing systems to worldwide Internet betting sites – was brought on board to create  monitoring systems for the country's gambling equipment in and out of casinos.
There was just one little snafu: Intralot's own Greek chairman, Socrates Kokkalis, was knee-deep in a bevy of alleged corruption and bribery scandals dating back decades. The $35-million DIA contract calls for Intralot to create electronic monitoring systems (EMS) for use on New Zealand's gaming machines.
Binding Contract
In an odd twist, it appears that the DIA was fully aware of the unproven allegations, and had even tried to determine if they could  renege on their contract with Intralot should Kokkalis ever be convicted; they were informed they could not, legally speaking, but went ahead with the contract regardless.
Not only that, but the DIA awarded the contract without doing any further probity checks, although they had not conducted one on Intralot in eight years.
The contract gave Intralot the project of building and maintaining an Integrated Gambling Platform (IGP) that would be the technological watchdog for all of New Zealand's casino-related and non-casino gambling regulatory compliance; to date, the DIA has poured out $6.6 million of that designated budget on the ongoing project.
At issue is the reality that this IGP is privy to an enormous amount of sensitive data, including criminal and credit background checks on more than 16,000 gaming industry employees. Potentially, Intralot's Greek headquarters could access this information, and that's a reality that New Zealand's Community Gaming Association deems "scary."
Key among the multiple rumors that surround CEO Kokkalis is the allegation that he was once a Stasi agent: a state police informant for East Germany. In fact, a 1998 Bundestag (parliamentary) report discusses Kokkalis' purported involvement, along with that of his company and associates, in great detail. And even more chilling, a 2010 European Commission Centre for Democratic Studies report on organized crime and corruption showcased Kokkalis throughout an entire section of the study.
What it all adds up to in regulatory parlance is that Intralot is not a company that would likely pass any legitimate oversight commission's background checks; something that would be de rigueur for a business creating monitoring platforms for gaming compliance in most Western nations. In fact, a 2010 Illinois State Lottery management opportunity fell through largely because it was determined there was no way Intralot would have survived the regulatory culling process, according to Illinois State Revenue Department officials.
"In light of the questionable background of certain key executives of Intralot and its parent corporation, numerous criminal indictments brought against them for alleged money laundering, fraud, embezzlement, bribery, misleading investors and espionage, coupled with Intralot's loss of licenses in Bulgaria and South Africa, and its dismal performance record in Australia, Intralot would be hard-pressed to establish that it would have passed Illinois' probity standards," the report read.
But other than that, Mrs. Lincoln, how was the play?
The DIA nonetheless has defended their actions in offering Intralot the compliance platform contract, saying their previous "extensive" 2005 background check should have sufficed in the matter.
Allegations Never Proven
Meanwhile, Intralot's New Zealand chief executive Garry Mitchell says the allegations are all unproven and were nothing more than "industry gossip"; it should also be pointed out that Kokkalis was never convicted and was ultimately cleared of the pending allegations against him.
"All independent investigations into the historical allegations have proven that the allegations have no substance, and were politically motivated," said Mitchell.
The Community Gaming Association is less convinced, however; spokesman Brian Corbett says he has written to the DIA with his and others' concerns, but is not satisfied with any response he's received so far.
"The problem we have as an industry is that we are held to account on every cent we turn over," said Corbett. "We are held feet-to-fire to ensure that we maintain probity…but this just seems like turning a complete blind eye."
Similar Guides On This Topic