Indiana Casino Union Does What Trump Taj Mahal Workers Couldn't: Reaches New Deal with Majestic Star Riverboats
Posted on: August 25, 2016, 11:01h.
Last updated on: August 25, 2016, 11:48h.
Indiana Governor Mike Pence, the current GOP vice-presidential contender, has put his state on the map for financial gains and growth during his administration. Now a new casino union contract in the Hoosier State is also showing up its sister chapter in Atlantic City, having successfully negotiated for benefits, where its brethren failed.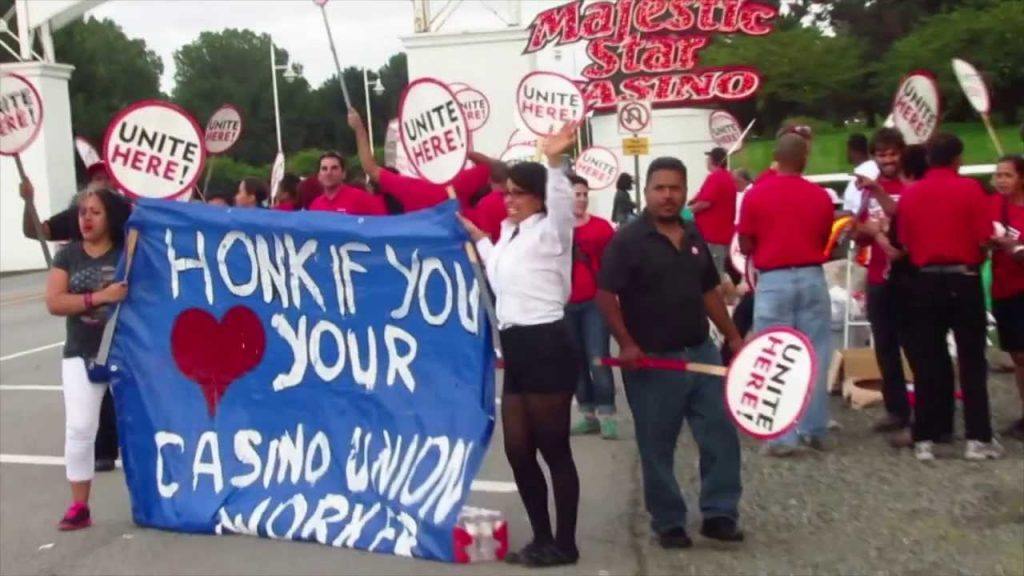 Indiana's Unite Here casino union, representing cooks, wait staff, and housekeepers at the two Majestic Star riverboats in Gary, has reached a new agreement with the gambling operator. On August 19, the two sides officially signed off on a contract that increases wages over the next two years, while maintaining the current health insurance programs being afforded to union members.
The deal runs through 2018.
Unite Here Local 1 spokesperson Noah Carson-Nelson told the Chicago Tribune, "Our members are happy. The people were excited that it was settled fairly quickly and that it includes raises and the same health insurance."
The Majestic Star casinos sit next to one another in Lake Michigan, about 30 miles southeast of downtown Chicago.
Local 1's parent union, Unite Here, is the same organization that unsuccessfully went on strike at the Trump Taj Mahal in Atlantic City earlier in the summer. As a result, billionaire owner Carl Icahn announced that the casino will be permanently closing on October 10.
The Trump Factor
Formerly known as the Trump Casino, Majestic Star II was renamed after Trump Entertainment Resorts sold the property to Majestic in 2005 for $253 million.
The sale was part of Trump Hotels & Casino Resorts (THCR) filing for Chapter 11 bankruptcy protection in 2004. The company emerged from liquidation under the new Trump Entertainment Resorts name in 2005.
Trump's record in Atlantic City is certainly questionable. But in Indiana, Trump's riverboat was decidedly profitable. Over the 11 years since Majestic acquired the floating casino, it's never won as much money as it did when Trump was the financial admiral of the ship.
In 2004, total wins eclipsed $140 million. In 2015, the Majestic Star II pulled in just half of that figure.
The Majestic Stars are two of 10 riverboat casinos in Indiana. The Hoosier State is also home to the French Lick Resort Casino, the only land-based gambling venue there, plus two racinos that offer slots and electronic table gaming.
Marked Market Differences Between Two States
Back east in Atlantic City, Unite Here Local 54 was also fighting for higher wages and health insurance at the Trump Taj Mahal. But the bankruptcy process already underway when Carl Icahn purchased the casino allowed the billionaire to temporarily suspend pension and healthcare benefits as he worked to upright the casino's dire financial situation.
But Icahn, who was reportedly losing $100 million on the venture, said he needed more time before restoring benefits. Workers walked off the job in disgust, and Icahn called their bluff in a move that ultimately caused both sides to lose.
The market is quite different in northwest Indiana than in Atlantic City. When the Taj Mahal closes its doors in October, it will become the fifth casino to shutter down since 2014 in New Jersey.
The Blue Chip Casino and Hotel in Michigan City, Indiana also recently negotiated successfully with Unite Here Local 1. Ameristar Casino Hotel did as well, albeit after a lengthy and tedious process.
"We're happy to move on, and happy that we did it in an equitable manner," Majestic Star General Manager Barry Cregan said of the new contract.
So why would the smaller Indiana gaming union find more success with its employer than in the much larger Atlantic City market? Because the Taj was already losing millions each month, and the union's demands would only drive those losses further into the muck. In Indiana, while not thriving like they may have been over a decade ago, casinos are apparently still making enough of a profit to make union benefits a worthwhile investment.
Most Read