I'm Not a Lumberjack and I'm Not Really OK; Angry Gambler Strikes Back
Posted on: August 8, 2013, 05:30h.
Last updated on: August 6, 2013, 09:43h.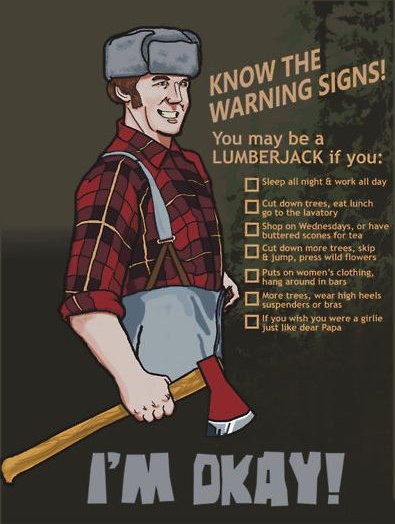 Ever seen a lumberjack in a casino? Probably not, since most lumberjacks don't generally carry their axes around with them on evenings out. But two stories have popped up in the media showing that non-lumberjacks don't necessarily stick to these rules.
Axing For Trouble
The first of these two tales of violence occurred in a village bar in Fontaniva, Italy, where a disgruntled gambler decided to exact his revenge on some unsuspecting slots machines after losing 5,000 euros (over $6,500) in two weeks.
The father of two, aged 48, was caught on CCTV cameras, footage of which has since stormed the media and video streaming websites, where viewers can watch the gambler smash up seven machines as nearby customers dive for cover.
After blowing off steam, the machine hacker calmly strolls out of the bar, but not before giving a thumbs up towards the one-armed bandits. Either this was a sign of victory, or a show of friendship towards these particular machines. When dealing with crazy, interpretations are anyone's guess.
The anger-released slot axe-murderer then waited calmly for arrest outside a nearby bar.
"He comes in here all the time to play the machines," said the owner of the bar, who chose – probably wisely- to remain nameless. "He's had some wins, but he spends a lot of money. He is a laborer and only works every now and then." Apparently, this is one worker who keeps his own equipment handy.
"He's normally a very quiet man. He just walked in very calmly with an axe and smashed all the machines. There were several customers by them at the time and they were terrified," he added.
As a result of his strangely calm yet violent outburst, the man was sentenced for six months for criminal damage and possession of an offensive weapon. But prison overcrowding got him off with nothing more than a slap on the hand.
But Wait, There's More…
The second of these two stories is a bit more frightening, as the axe was wielded not at the slots, but at a member of the staff at a betting shop in the Welsh capital of Cardiff.
Police reported that the "particularly violent" incident left the shop assistant at a Ladbrokes betting shop in Cardiff "in a state of shock."
Before raiding the till and making off with some cash, one of three suspects in the robbery was seen wielding an axe over his head, threatening the Ladbrokes' employee with injury or worse if he didn't comply.
A police spokesperson investigating the crime said that two men, both wearing ski masks, entered the bookie's shop at 9:30 pm on the night of the incident. One calmly stood guard at the doorway, while the other violently threatened the assistant with the tree-chopping weapon.
The frightened shop assistant then handed over what police described as a "quantity of cash," and the men fled the scene in a getaway car driven by a third suspect.
Police are now appealing to the local public for information that could help apprehend the violent criminals, as unlike the Italian axe-wielder, they certainly did not wait calmly for arresting officers to arrive on the scene.
Don't axe us, we don't know nothing.