Illegal Vietnamese Gambling Den Leads to Hidden Man's Death
Posted on: October 25, 2013, 05:30h.
Last updated on: October 23, 2013, 10:36h.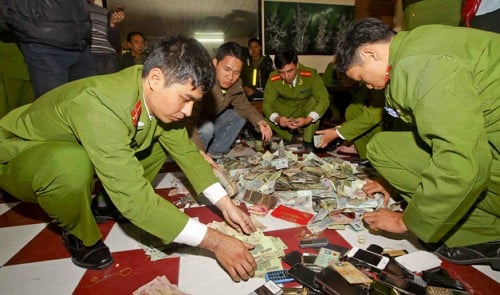 There are plenty of bizarre stories related to individuals attempting to cheat casinos and other gambling venues, and even quite a few that have tragic endings. But few can rival the story of a young man from Vietnam who died recently while trying to help gamblers cheat at an illegal gambling den.
The story began with Nguyen Ngoc Thanh, a 28-year-old who invited about 20 people to come gamble in a secret location in the Nghia Thang Commune. However, Thanh already had other plans, as he and another man had already come up with a cheating scheme that could benefit some of the members of the gambling den.
Small Quarters
That's when they brought in 24-year-old Bi Van Trung to help them carry out their plan. While the details of the plot are still under investigation, it required the conspirators to dig a hole about one meter (3.28 feet) deep under the floor of the gambling den. Trung would stay in that hole, using electronic devices to help some of the gamblers cheat (exactly how that would work, we cannot tell you).
The hole was covered by four wooden boards, making it difficult to detect that it even existed. A few holes were then punctured into the wood, allowing air to enter the space and allow Trung to breathe while he was carrying out the plan. That was the theory, anyway.
On the day of the planned scheme, Trung worked his way into the hole at noon (with just three feet to work with, we're not sure how he did anything, let alone breathe). The plan was to keep Trung in the hole until the gamblers left, at which point the other members of the scheme would remove the boards and get him out of the hole.
Plan Gone Awry
But somewhere along the line, the plan went horribly wrong. At about 6 pm the same day, Ngo Vu Truong Hai – another of the members involved in the scam – heard a mobile phone ringing from the hole, and decided to take a look inside. He removed the wooden boards and found that Trung was still inside, unconscious.
At the time, Trung was still alive. However, he was never revived and died on the way to a hospital. According to investigators, it appeared as though Trung had suffocated to death.
Along with the death, local police also investigated the operations of the gambling den, shutting it down. When raiding the den, they were able to take a number of electronic devices including gambling control units and mobile phones, as well as 10 million in Vietnamese Dong ($470) in cash.
According to reports, the gambling den had hosted about 30-40 players each day, with an entry fee of VND 100,000 ($4.70) or more per player.
While Vietnam does have legalized gambling at casinos in the country, only foreigners are allowed to play at such venues, with casino operators facing heavy fines if Vietnamese citizens are found on the casino floor. That means that many Vietnamese residents either travel to foreign countries to gamble at casinos, or participate in illegal games inside the country. While the government of Vietnam has been hesitant to allow gambling for its citizens, citing concerns about the social impact of gambling, they have softened their stance somewhat in recent years: in 2012, the country allowed gambling on sporting events in an attempt to bring such betting into a regulated market and away from underground gambling syndicates. And just this past August, lawmakers met again to discuss the possibility of opening up area casino gambling to citizens who meet certain income requirements.
Similar Guides On This Topic
Most Read