Illegal Sweepstakes Operator Gave Cash to North Carolina Politicians
Posted on: January 2, 2014, 05:30h.
Last updated on: December 30, 2013, 11:49h.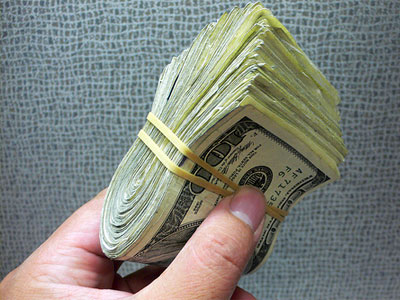 Politics can be a dirty business, but there are some places even politicians don't want to go to get money for their campaigns, at least not knowingly. They're few and far between, of course, but they do exist – and illegal gambling operations are probably close to the top of that potential list.
Hundreds of Thousands in Political Contributions
That's why a recent story out of North Carolina has made headlines – not for anything lawmakers there may have done – but for where their campaign funds have come from. It's been reported that a checking account used last year to make a total of $235,000 in campaign contributions to dozens of North Carolina candidates for political office contained laundered money – funds from a criminal gambling enterprise run by an Oklahoma resident.
The donations came from Chase E. Burns, an Oklahoma man who ran sweepstakes games in states such as Florida. It was one of several accounts tied to his illegal businesses, for which Burns has been already been prosecuted in both Florida and Oklahoma.
In September, Burns pleaded no contest to two criminal counts of assisting in the operation of a lottery. This was actually a much lighter sentence than he could have received: before the plea bargaining, Burns faced 205 felony counts, ranging from racketeering to money laundering.
Burns also reached an agreement with Oklahoma officials. Last month, he agreed to forfeit $3.5 million from several bank accounts – money that came directly from the proceeds of his sweepstakes software company, International Internet Technologies.
Trust Tied to Illegal Donations
And that's where the political donations come into the story. About $1 million of that forfeited money came from a checking account attached to the Chase Burns Trust. It's that account that was responsible for the hundreds of thousands in donations to North Carolina politicians.
Several major names in North Carolina politics were among those who received money from Burns. They included Governor Pat McCrory, state House Speaker Thom Tillis, and State Senator Phil Berger, as well as other prominent state lawmakers.
According to court records, money in the Chase Burns Trust came directly from the corporate accounts of the software company, which made millions in profits by providing software to sweepstakes parlors in North Carolina and other states.
Many states have had issue with the rise of such sweepstakes parlors, though North Carolina's battle with them has been particularly dramatic. The venues usually feature electronic games that can only be accessed after prospective players purchase phone cards or Internet time. However, these purchases also allow players to play sweepstakes games where they can win prizes – and in reality, both operators and players know that the "purchases" are only meant to skirt state laws, and that players are essentially gambling in a way that gets around state gambling laws. North Carolina has passed at least three laws to make such venues illegal, but each time, operators have altered the games slightly in order to attempt to make them legal – and some have gone as far as suing local law enforcement officials for raiding their businesses or shutting them down.
While Burns was the largest contributor to North Carolina politicians from the sweepstakes industry, he wasn't the only one, as about $520,000 in donations has come from sweepstakes operators since 2010. Most of that money has come from a lobbying effort that had the goal of gaining allies who would help make the sweepstakes games legal in the state.