I Love Gambling In New York: State's Next Slogan?
Posted on: February 4, 2013, 11:58h.
Last updated on: February 4, 2013, 12:24h.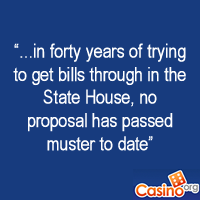 In a move that has the state's tribal casinos and "racino" operators up in arms, New York's Gov. Andrew Cuomo continues to push for across-the-board legalized brick-and-mortar gaming in the Empire State.  The governor is proposing a constitutional amendment to open casino opportunities to non-Indian house operators, just one of several proposals he's offered up to his state's legislature to expand casino gambling in New York state.
Two consecutive legislatures and a majority of the state's voters will need to approve the measures before any of it becomes law, and to date, no proposals on these issues have passed a second round of lawmakers, let alone been introduced as a voting amendment to the public. Program Bill 26, Cuomo's new gambling proposal, could have a "significant potential to be a major economic engine for New York state," Cuomo said recently in an interview.  "The reality is that we already have gaming throughout the state," the Governor added, referring to existing tribal and racing facilities that are not directly and specifically regulated by the state.
New York already surpasses New Jersey and every other state in the Northeast and Midwest in number of existing slot machines, coming in at over 29,000.  Cuomo stated that legalizing land gaming in New York would "…get the tourism, revenue and good jobs that belong here."  He estimates that the move would pull in more $1 billion in generated economic activity.
The Governor faces no easy battle, however: in forty years of trying to get bills through in the State House, no proposal has passed muster to date.  If Cuomo is able to change that tide, the earliest gaming would be able to open up would be 2014, and Pennsylvania, already beating Atlantic City in brick-and-mortar gambling revenues, will probably be in a photo finish race for gambling dollars with New York.
Cuomo discussed his proposal in his recent State of the State address, saying he wants to add three destination casinos, which would all be situated in upstate New York, as Phase One of his plan to authorize up to seven new state-regulated gaming houses.
Some progress has been made in recent negotiations between factions on the measure's wording, including agreement on a provision mandating that a newly formed state gambling commission will be designated to select the developers should new casinos be allowed to exist.  Both sides of the issue have now agreed to create that state gambling commission, with Robert Williams, currently director of the New York lottery and former legal counsel for the New York State Racing and Wagering Board, appointed as its acting director.  The new commission becomes an official entity as of February 1, 2013.
Another issue that reached agreement was that the Catskills, once a flourishing mountain resort, but largely left to die in recent years, would be one of the first destinations considered for a casino site when and if approval of the measure passes.
Similar Guides On This Topic
Most Read