Hawaii Just Says No to Gambling Study
Posted on: March 26, 2013, 05:22h.
Last updated on: March 25, 2013, 10:23h.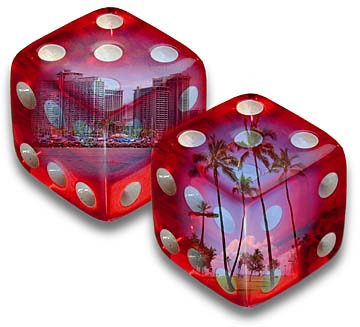 You probably wouldn't be too surprised to learn that gambling of any kind is banned in Utah; after all, the heavily Mormon state looks down on sinful activities of any kind. But Hawaii? How did the last state to join the Union get so persnickety when it comes to games of chance anyway?
No Resolution for Hawaii
Whatever the reason, the political powers-that-be don't even want to consider adding gambling to the lures that might draw tourists to their sunny clime.  The Hawaii House recently refused to approve a resolution that called for the Aloha State to merely study the possible social and economic benefits and detriments of bringing gambling on board legally there. Really? Not even a study? That seems rather closed-minded for a place where surfing is practically a religion and grass skirts are considered a fashion statement.
"Too Expensive" to Study
According to Representative Clift Tsuji (D-Hilo_Waiakea-Keaukaha), the issue is financial. No, not the gambling part; the study part. Other politicians on the state's Economic Development Committee denied the study proposal out of hand, saying it "would be too expensive." Okay, so wait, we're confused: you're designated to study what would bring you more economic benefit, but have no money to determine what would or what wouldn't?? Fine, go have another cocktail or three on the taxpayer, cause we're not quite sure how you're going to figure out anything if that's the case.
It's Just a Lottery
While they might find a gambling study too pricey, apparently the state Senate had no issues with a recent bill that called for  a state Internet lottery and gaming entity to be established, with the goal of ultimately appointing one lucky service provider to operate an online gambling site. (Yes, it's a little confusing how you would need a site operator when you can't even study whether or not you want to have gambling legalized in your backyard.)  Hawaii's House of Representatives also introduced a bill along the same lines early last year, but it took off like a grounded Concorde.
Of course, there's plenty of underground gambling in Hawaii, as witness some major raids in recent months; is it possible that said operations are behind a groundswell to keep it that way, as legalizing casinos would greatly affect their bottom lines? Surely not; we know no one ever takes bribes, overt or implied, when it comes to stuff like this.
Guess "Hawaii, the Gambling State" won't be minted for state license plates anytime soon.
Similar Guides On This Topic