Illinois Governor Pat Quinn Worried Casinos Would Corrupt Chicago
Posted on: March 7, 2013, 05:31h.
Last updated on: March 7, 2013, 05:40h.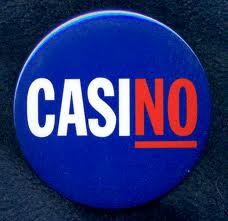 Yep, you read that title right: in the city known for political scandals second only to possibly New Orleans, Illinois Gov. Pat Quinn is extremely worried that allowing land-based casinos in Chicago could open the door to the potential for political corruption. We'll pause here so you can wipe the coffee spit off your computer screen.
Just Say No to Casinos
Senate Bill 744 will not be seeing the light of day, after Quinn vetoed it citing "glaring deficienc[ies such as] the total absence of comprehensive ethical standards and regulatory oversight." He also wants a bill that would direct more "dedicated resources for education."
Quinn has been adamant in saying that he does not want the Windy City to become the "Las Vegas of the Midwest."  It's not that Chicago (and the rest of Illinois, for that matter) couldn't use the revenue infusion that allowing brick-and-mortar casinos would bring in ( and the bill was only allowing for one casino in Chicago proper, with the others to be scattered at four other sites around the state, plus the option for slot machines at racetracks, both airports and the Illinois State Fairgrounds). In fact, as of this moment, Quinn wrestles with the weighty issue of a $96.8 billion pension fund debt that possibly casino revenues could help ease.  And whether or not Quinn is a fan, certainly other Illinois legislators are pushing for the measure to pass; particularly the bill's sponsor, Sen. Terry Link, D-Waukegan, who fired back after the veto that a newly revised bill would be "coming pretty rapidly [and] the governor may even like it."
The Sticking Points
Link insists the next version of SB744 will tighten down on the potential for political campaign contributions by casino managers and those seeking gaming licences, which Quinn says are necessary to keep corruption out of the industry. Corruption in politics or gambling? What?
Show Me the Money
Albeit for very different reasons, New Jersey's Gov. Chris Christie had also been a long-time holdout against his state's push for an online gambling measure, yet recently signed a revised bill allowing for the same so fast after legislators approved the bill, he could barely have taken a breath. At the end of the day, money for state coffers talks, and we all know what walks.
Stay tuned for Quinn's next move.
Similar Guides On This Topic
Most Read