GOP Online Gambling Ban Stance Reversed, Nominee Trump Makes Acceptance Speech
Posted on: July 22, 2016, 08:23h.
Last updated on: July 22, 2016, 10:02h.
The GOP online gambling stance may not have been the most compelling issue of a very heated and contentious presidential campaign. But news that the Republican Party has now reversed a previous push to ban Internet gambling at the federal level should nonetheless be welcome to Americans who like to gamble on their laptops and tablets.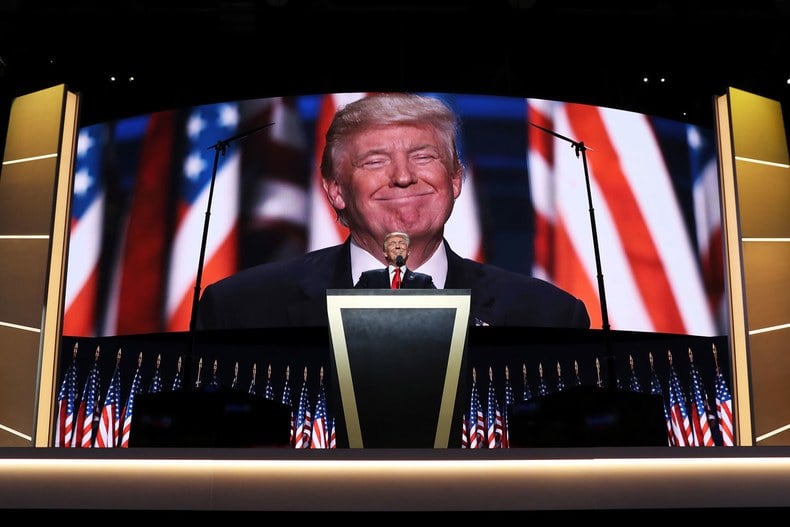 The anti-online stance has been a position many in the Republican Party have taken since the Department of Justice (DOJ) decided to singlehandedly rewrite federal law in 2011, issuing an opinion regarding the 1961 Wire Act. The memo stated that the longstanding statute that bans interstate transmissions and wire communications applied only to wagers on sporting events and contests, and nothing beyond.
But as Donald Trump officially became the GOP nominee on July 21 during the final night of the Republican National Convention (RNC), gambling proponents got wind that the party was easing its stance on Internet gambling as well.
According to Gambling Compliance, the Republican National Committee will no longer urge its members to oppose iGaming.
It's a view that might seem to more correctly align with conservative principles, after all. Long the official champions of states' rights and the Constitution, the GOP's federal opposition to allowing a state to decide whether it wants to authorize online gambling has been befuddling to many all along.
The Tenth Amendment dictates that anything not explicitly reserved to the federal government in the Constitution are powers designated to the states. And during his acceptance speech last night, Trump called for reestablishing America's principles.
"When I take the oath of office next year, I will restore law and order to our country," Trump told the RNC crowd on Thursday night in his acceptance speech. "We are also going to appoint justices to the United States Supreme Court who will uphold our laws and our Constitution."
The Poker Players Alliance, the country's most visible lobbying group on behalf of those who love to play poker online, took some credit for the changed stance in sharing the news with its constituents.
Putting America First
The fourth evening of the RNC began with Ivanka Trump, the stunningly beautiful and uber-successful powerhouse daughter of the candidate, who has been instrumental in guiding his presidential campaign. She delivered candid remarks on being a millennial and working mother in business (she has three children), and argued that her father would be an advocate for women's rights.
Then Ivanka set the stage for the headliner, a moment many on the right had long-awaited.
With all bets off as Donald formally accepted the nomination, the Republican candidate played it safe by reading from a scripted teleprompter that mostly outlined his "Put America First" policies to come.
He focused on a return to law and order, job creation, and a reduction in federal oversight. The speech went on for over an hour, and appeared to be well-received by the massive crowd in attendance at The Q in Cleveland, Ohio.
PayPal Founder Gets Behind Trump
Trump stuck to a tried-and-true view that was likely to appeal to (now out of the Democratic race) Vermont Senator Bernie Sanders' following, when he said the system is rigged. The GOP candidate also reached out in several ways to another audience with which it has not traditionally curried much favor: the lesbian, gay, and transgender collective, more commonly referred to as the LGBTQ.
PayPal co-founder Peter Thiel was the man who delivered the appeal. The openly gay billionaire said, "I am proud to be gay, I am proud to be a Republican, but most of all, I am proud to be an American." The remarks were made to thunderous applause from the crowd.
The company that made the 48-year-old his fortune was ironically one of the few payment processors that had bailed from the US online gaming market long before it technically had to. Getting out of the American market as far back as 2003, it wasn't until the 2006 Unlawful Internet Gambling Enforcement Act (UIGEA) made it illegal for payment processors to facilitate transactions for customers related to gambling websites.
PayPal didn't return to the US Internet gambling market until 2015, when it reemerged as a payment processor for the now-legal Nevada and New Jersey online poker operators, as well as for some legal DFS sites in states where that remains an option.
Candidates Weigh In, But Scale is Unreliable
The Democratic National Convention (DNC) will kick off on July 25 in Philadelphia, where presumptive nominee Hillary Clinton will have her turn to petition America. Clinton, who voted in favor of UIGEA a decade ago while a US senator, is something of a mystery when it comes to her current online gambling views.
But while Trump has a rich past in the casino industry, his position on Internet gambling also isn't crystal clear.
His mega-donor pal Sheldon Adelson wants online gambling banned and the Wire Act restored to its original across-the-board vision. Donating $100 million to Trump's efforts, it's assumed by many that Adelson will want some quid pro quo, and what he wants is no more Internet gaming on the federal level.
Of course, America has many more grave concerns than online gambling, which is why the topic likely is being unofficially set aside by Republicans at this juncture. Even Adelson can't compete with the most pressing issues that will face either candidate who takes office. Those include terrorism, job creation, racial equality, and protecting the country's now-targeted police officers, to name but a few that are likely to be front and center come January 2017, when a new administration will move into 1600 Pennsylvania Avenue.