Golfer John Daly Says He Lost $55 Million Gambling
Posted on: June 2, 2014, 05:30h.
Last updated on: May 30, 2014, 10:31h.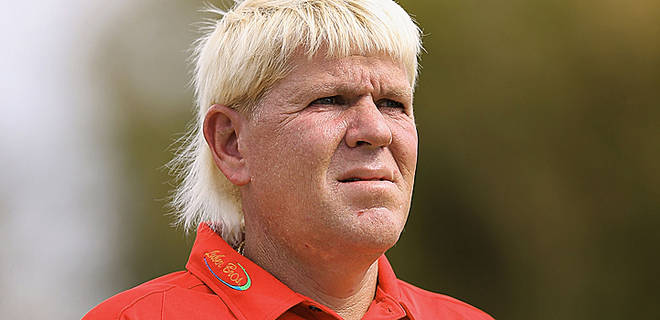 Back in the 1990s, John Daly was one of the best golfers in the world. He won the PGA Championship in 1991, and later took home a British Open title in 1995. He was one of the longest hitters on tour, and was known for his loud personality (and louder golf pants). But over time, his star faded. Daly struggled with alcohol, his weight, and gambling. The extent of that gambling problem wasn't exactly clear to the public, though it was made known in Daly's 2006 autobiography.
It now turns out that perhaps the reason the details weren't made clear then was that Daly wasn't even sure how much he had lost himself until now.
Stunned by His Own Losses
In an interview with sports reporter Graham Bensinger, Daly said that he has lost somewhere in the range of $55 million through gambling, an astonishing amount that surprised even the golfer himself.
"I went through all my tax records to find out, because I really didn't know," Daly said of the amount. "I was shocked. I thought it might have been 20 or 25 million, but I had no idea it was 55 to 57 million. It's crazy."
How does someone manage to lose tens of millions of dollars – so much that they can't even keep track of the final amount? Daly says he would often play blackjack in a way that would make even most high rollers blush. Not only would Daly bet $15,000 per hand, but he would also take all seven spots at a table at once. He also admitted to playing slot machines for up to $5,000 per spin, costing him millions.
"I've played slots for two days in a row. I've played blackjack for two days. One sitting," Daly said. "The only time I'd get up is to go to the bathroom. Time goes by so fast and if you're on a roll and you're winning, I'd just keep on going, keep on playing."
According to Daly, he still gambles to this day. However, he's playing for far lower stakes than when his addiction was at its worst.
"Now if I gamble, I go in and play the $25 slots," Daly told Bensinger. "If I hit something I might move up to the hundreds."
Change in Attitude
For Daly, the biggest change has been in his attitude towards casino gaming.
"I go in to enjoy myself, I don't go in to win," he said. "I want to win, but I don't go in thinking that I'm going to win. Because that's the worst thing you could do in a casino."
And despite losing more money than most people will see in a lifetime, Daly says he has no regrets.
"People are going to say I should regret it," Daly said. "But I did it, I've moved on from it, and I had a lot of fun doing it."
Daly won over $9.2 million on the PGA Tour, and made significant money in endorsements and on other golf tours as well. Daly still plays professionally today, though he currently competes mainly on smaller tours, as he no longer holds a PGA Tour exemption. His 2014 campaign has included some notably poor performances, from shooting a 90 at the Valspar Championship to finishing in last place by 11 strokes at the Web.com Tour's South Georgia Classic.
Similar Guides On This Topic