Gamcare UK Offers Statistics Suggesting Mobile Gambling Makes Addicts
Posted on: October 19, 2013, 05:30h.
Last updated on: November 18, 2013, 03:56h.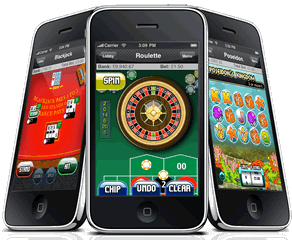 Gamcare – a British support site for compulsive gamblers – has, not too surprisingly, released some unflattering statistics about what online and mobile gambling might be creating in terms of addictive behaviors, but apparently the group is not alone in their findings about UK players.
Correlation Between More Calls and Mobile Apps?
Apparently the BBC's Newsbeat – an Internet news site – is insinuating that the increase, for the third year running, in the number of 18 to 35-year-old gamblers reaching out to Gamcare for help can be directly attributable to more smartphones and other mobile apps having usable gambling content at the touch of a fingertip.
According to the Gamcare assessment, 6.5 % more than the year before in this relatively youthful demographic called them for help in 2012; that amounts to a 337-person spike, not really awe-inspiring if you consider we are talking about fewer than 5,600 people at the high end. More gripping, perhaps, is the information from Gamcare that 18 to 24-year-olds comprised 30% of their call-ins, out of a total of some 8,813 people total who reached out to the service last year.
Although it's not clear how or even whether Gamcare has ascertained what mode of gambling these addicts were using, it appears the assumption is that, based on  their ages, that they were most likely online and even more likely, on mobile devices of one kind or another. The simple ease and availability of the mobile world is obvious to anyone who has almost been trampled by someone not watching where they were going while texting, doing social media, or anything else on their smart phones as they ambulate.
Determining What the Data Means
Extrapolated from that simple reality, it seems, is the further assessment that with instant access and easy availability comes more problem gamblers. That being said, an organization that deals with compulsive gamblers day in and day out isn't very likely to put any kind of positive spin on any kind of gambling anywhere, are they? Right.
Now, let's put these numbers in a little bit of comparable context. For example, shopping addicts in the UK are estimated to be in the 8-16% range for adults, and that's versus 0.9% of the same for problem gamblers, according to a British Gambling Prevalence Survey. An interesting parallel suggests that compulsive shoppers also have far more choices online and via mobile apps than they would if they simply went to a mall, and in fact, they have millions of choices for online shopping and many, many more than gamblers do for casino sites, for a range of reasons, going from the complexities of getting a gaming operator's license to the expense of software, just for starters.
As online gambling and mobile gambling apps continue to expand – and particularly as legal and regulated online casinos move forward in the U.S. – no doubt "the sky is falling" will be coming from many parts of the world as folks predict the doom and gloom that is to come. While no one is suggesting that problem gaming doesn't exist or cause great harm where it does, there is also no real reason – at least until a decade or more of concrete and quantifiably related data can be amassed – to assume that online and mobile gambling will create any more compulsive gamblers than anything else would.
It's sort of like the old "bait car" argument, where criminals who steal pre-set and unlocked bait cars try to argue that they've been "entrapped." You can't really be trapped into doing something you don't have a mindset and proclivity to do to begin with, can you? Problem gamblers will find a way to  create a mess and non-problem gamblers will continue to enjoy new and exciting technology, and you can't make someone into an addict anymore than you can force an honest person to steal a car that's not theirs.