Could Gambling Amendments Be Coming to Nebraska and Alabama?
Posted on: February 16, 2015, 01:30h.
Last updated on: February 16, 2015, 12:36h.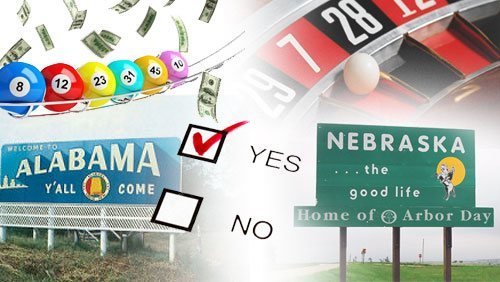 Gambling amendments could soon be coming to Nebraska as state legislators are trying to obtain the legal power to authorize gaming activities without approval from voters.
Meanwhile, a new poll in Alabama shows an overwhelming majority of residents support commercializing casino gambling and the creation of a lottery, but strong opposition from elected leaders including its governor could prevent passage of any gaming bill.
Nebraska Overreach
Nebraska's General Affairs Committee recently voted in favor of continuing the advancement of Legislative Resolution 10CA (LR 10CA), a bill that if passed would grant legislators with the power to approve forms of gambling.
As the law currently stands, voters must support any such measure before it could be enacted. State Senator Paul Schumacher (R-District 22) introduced LR 10CA and says the bill "would not itself change the types of gambling allowed in Nebraska.
Rather, it would remove a barrier placed in the state constitution more than 150 years ago." However, not everyone in the Cornhusker state agrees with Schumacher. State Sen. Merv Riepe (I-District 12) was one of three votes against the advancement of LR 10CA, saying the measure takes power away from the citizens. Beau McCoy (R-District 39), another state senator, has already motioned to kill the bill.
Those in favor of LR 10CA are after the huge profits other states are enjoying due to permitting commercial casinos to operate. Although Nebraska does offer tribal gaming, lottery, and betting on horse racing, to date voters have shot down attempts to bring casinos and slot machines to the state.
Bypassing their constituents might land lawmakers in deep water come reelection time, unless the approval leads to revenues so high that residents are truly rewarded from the casinos in their state.
Tide Turning in Alabama 
Just one of six remaining states without a lottery, Alabama residents have voiced their opinion that they're ready to reap the benefits of gambling.
According to a News 5 poll, 69 percent of citizens would want to look into gambling as a form of revenue for the state before raising taxes. Additionally, 72 percent of respondents said they would support the creation of a lottery, and 60 percent would vote in favor of commercial gambling.
But like in Nebraska, lawmakers seem to be going against what the voters want. With influential opponents in that of the tribal gaming operators and Mississippi casinos, Alabama Governor Robert Bentley (R) says he would not consider gambling as a possible solution to his state's expected $700 million deficit over the next few years.
However, the governor would consider signing a lottery referendum should it "miraculously make it out of the state legislature" and land on his desk.
You might consider it "miraculous" that a state with a growing deficit wouldn't have already voted to integrate a lottery as a revenue tool. According to the United States Census Bureau, state lotteries grossed nearly $20 billion in 2014.
Alabama's neighboring state of Georgia brought in $945 million in lottery revenue last year alone. Tennessee collected $337 million, while Florida gained an enormous $1.49 billion.
With voters expressing their favorable lottery opinions, and such a substantial economic gain at stake, Alabama lawmakers would be smart to embrace a lottery amendment.
Similar Guides On This Topic