Fung Proposes $3.8 Billion Aquis Great Barrier Reef Resort in Cairns
Posted on: August 5, 2013, 05:30h.
Last updated on: August 3, 2013, 04:48h.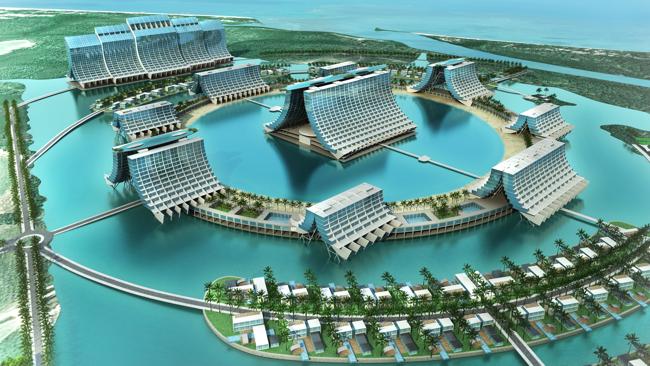 Chinese billionaire Tony Fung is proposing to build a $3.8 billion(US) casino resort in Cairns, a project that could drastically increase the competition in Australia's casino and tourism market.
Massive Undertaking
The casino complex, which would be near the Great Barrier Reef, is planned to include an "international class" casino, a 25,000-seat sports arena, and one of the world's largest aquariums. Some 750 gaming tables and at least 1,500 machines are planned, which would make it slightly larger than Melbourne's Crown casino.
The state government of Queensland has already given the casino a very preliminary approval by marking the proposal as a coordinated project.
"Basically it's declared a coordinated project because of the size and complexity of it," said a Queensland government spokesperson. "It's the first step in a comprehensive assessment of the approval process. The proponent has to prepare an environmental impact statement."
The casino, part of what would be known as the Aquis Resort, would be located about 13 kilometers (8 miles) north of Cairns, and would give Queensland a serious entry in the escalating race to attract Chinese tourists to Australia. The target date for opening the resort would be 2018, and would include extensive retail space and two 2,500-seat theaters for hosting entertainment events. The project could also be an economic windfall for locals, as it is expected to generate more than 26,000 new jobs once the complex is completed.
The resort "gives Queensland an opportunity to fend off its southern and regional competitors for the increasingly important Chinese tourism market," Fung wrote on the project website.
Fung the Tycoon
Fung is a private investment banker and investor from Hong Kong. He already owns businesses that include cattle farms and beef breeding, as well as a sugar cane plantation. Fung also owns homes in Queensland, including one located in the Noosa Hinterland. He purchased an option on a 750-acre site specifically to have a location to build his proposed casino project.
If the project is ultimately approved, it would become the second casino in the state of Queensland. Currently, the Reef Hotel Casino in Cairns is the only casino in the state. However, that casino's exclusive operating license ran out a few years ago, opening the way for new casino proposals. The Reef Hotel Casino has been operating continuously since 1996.
The Aquis Resort isn't the only new tourism project that's been proposed in Australia in recent months. Casino magnate James Packer recently won approval for his $1 billion Sydney casino project – one that will end The Star's exclusive hold over the Sydney gaming market, and will cater just to high rollers. Meanwhile, Chinese businessman Bruce Zhong has been working to open a massive A$500 million ($445 million US) theme park located just north of Sydney. That complex would feature a full-size replica of Beijing's Forbidden City along with theaters and other attractions, and could become one of the nation's biggest tourist draws.
China has become the fastest-growing international tourism market for Australia. Chinese tourists spent more than A$3.8 billion ($3.4 billion US) on tourism in Australia in 2011, and more than 400,000 Chinese visitors traveled to New South Wales alone that year.