Former WSOP Main Event Champ Arrested in Undercover Prostitution Sting
Posted on: March 15, 2013, 06:30h.
Last updated on: March 18, 2013, 10:21h.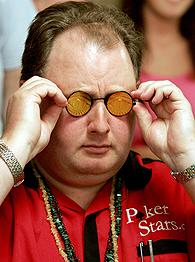 Greek myths mirror real life with tales of success and debauchery, pride and humiliation, and secrets that lead to dastardly results. We all remember poker pro Mike "The Mouth" Matusow's 2003 cocaine arrest that ultimately led to a six-month stint in Clark County jail on charges of felony possession with intent to sell.  In fact, the list of poker player scandals, perhaps not surprisingly, is colorful indeed, and now you can add 2004 World Series of Poker Main Event champion Greg Raymer to that list: he was arrested in early March after responding to a website ad for prostitutes. Unfortunately for him, the ad was a sting set up by North Carolina police, and he was nabbed, one presumes, when he showed up to meet his hooker at a police-selected hotel.  Raymer is married, and was allegedly seeking some action on the side. Although the story originally reported that it was a male prostitution ring, that apparent error was quickly amended. Whoops.
Story Hook
Wake Forest, North Carolina police say that 48-yr-old Raymer "was one of six men who responded to an advertisement posted by undercover police on a website often used by prostitutes."
Wake Forest police chief Jeffrey Leonard added that "the locations prostitutes choose for this type of criminal activity vary, and seldom remain the same for more than a couple of days at a time, which makes enforcement difficult. In this instance, we conducted the operation at a local hotel with its full cooperation. We are not aware of this type of criminal activity ever occurring at the hotel [before]. Our officers selected the hotel for the undercover operation at random."
Not Alone
Raymer was one of six men arrested, and while certainly the most well-known (now notorious), he was not the only man with a high-profile image. Among the other six were Kevin Scott Konarzewksi,  president of Complete Inventory Services;  Christopher Burrell Shella, managing director of Shella, Harris & Aus P.C and a former attorney for Mangum;  and Robert Hancock, vice-president of sales and marketing at MobileSmith.
Bail for all these "gentlemen" was set at $1,000, and court appearances for April 18th.  Police said the sting operation was  "a pre-emptive measure to combat the nationwide growing trend of prostitution."
Ricky, you got some 'splainin' to do.