Federal Sports Betting Ban Marks 25th Anniversary, Gaming Industry Says Law's Days Are Numbered
Posted on: October 28, 2017, 02:00h.
Last updated on: October 27, 2017, 07:24h.
Twenty-five years ago today sports betting became outlawed in all but four states, the exceptions provided due to those jurisdictions having some form of sports gambling at the time.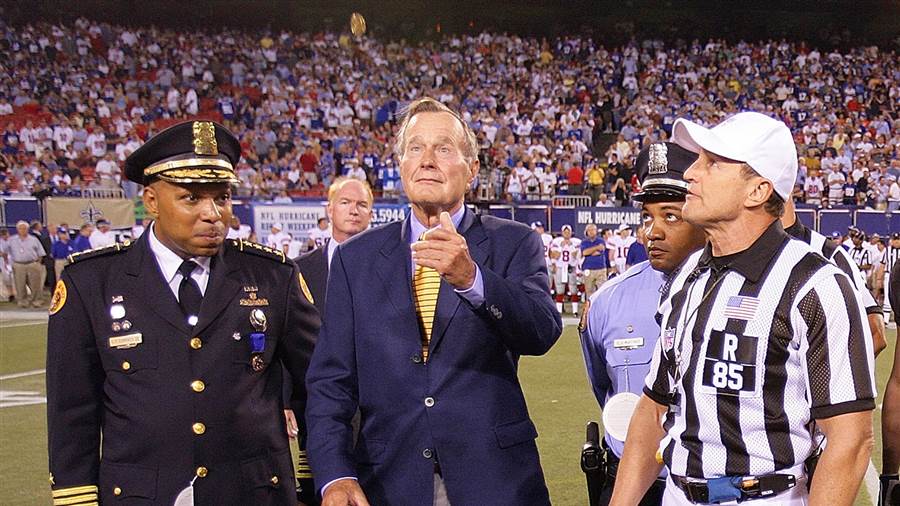 But while former US Senator Dennis DeConcini (D-Arizona) might be celebrating the anniversary of his anti-sports betting legislation that was signed into law October 28, 1992, by President George H.W. Bush (R), the gaming industry says the federal statute's days are numbered.
DeConcini authored the Professional and Amateur Sports Protection Act of 1992 (PASPA), legislation that outlawed sports pools and lotteries outside Nevada, Oregon, Delaware, and Montana. Only Nevada takes full advantage of its immunity.
The American Gaming Association (AGA), the gaming industry's chief lobbying voice in Washington, believes PASPA will soon be repealed.
"PASPA is a failed law that has driven everyday sports fans into an unregulated, illegal sports betting market that offers zero consumer protections and fails to benefit communities or strengthen the integrity of the sports we love," AGA President Geoff Freeman said in a statement on the bill's 25th anniversary.
"For PASPA to remain the law of the land is to place our collective heads in the sand and willfully ignore criminal activity, the will of the people and the power of technology. PASPA's days are numbered," Freeman concluded.
Critical Months Ahead
At this time next year, Nevada may very well have lost its monopoly on sports gambling. On December 4, the US Supreme Court will hear New Jersey's appeal against lower courts that it should have the right to determine its own sports betting laws. The court is expected to release its ruling in 2018.
New Jersey voters approved an amendment to their state constitution in 2011 to allow the Legislature to pass sports gambling regulations giving horse racetracks and Atlantic City casinos the right to operate sportsbooks. The NCAA, along with the NFL, MLB, NBA, and NHL, interjected with a lawsuit to block such gambling, and to date their efforts have succeeded.
New Jersey argues that PASPA violates the US Constitution, as it forces some states to adhere to federal laws that not all must abide.
Massive Industry
PASPA critics like the AGA say the law does nothing to protect the integrity of the leagues, a common argument made by commissioners like the NFL's Roger Goodell. A legalized sports betting environment would create oversight, so says the AGA.
It would also provide enormous amounts of new tax revenue, a recent study from Oxford Economics finding that legal sports betting across the US could generate upwards of $5 billion in annual tax money to federal, state, local and tribal sovereign governments. The research also opined that sports betting would support 152,000 jobs, and create an overall economic impact of somewhere between $21.9 billion and $26.6 billion.
Should the Supreme Court come down on New Jersey's side, Gambling Compliance, a gaming research firm, believes 20 or more states would follow in the Garden State's footsteps and legalize sports gambling by 2025.