European Parliament Approves Controversial Anti-Money Laundering Bill
Posted on: March 16, 2014, 10:00h.
Last updated on: March 14, 2014, 09:44h.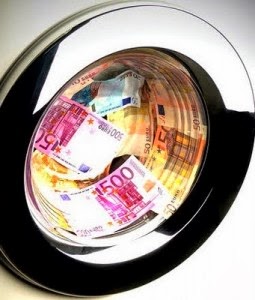 The European Parliament has approved a proposal that will tie all gambling operators to stringent anti-money laundering measures and require all beneficial owners of online gambling companies in EU countries to be listed in public registers. Beneficial owners are individuals who ultimately own an investment, rather than simply hold it on behalf of the real owner, and thus the new law seeks to prevent criminals from having anonymous stakes in online gambling operations.
It will also ensure that banks, lawyers, auditors, etc., have a responsibility to question any suspicious transactions made by their clients. As well as listing information on company owners, the new registers will carry information on legal arrangements pertaining to all individuals' companies, holdings, foundations and trusts.
How Much Laundering Under Debate
That online gambling can facilitate money laundering is a frequent battle cry of the anti-gambling brigade, although the veracity of that claim has always been up for debate. The online gambling industry already has strict anti-money-laundering measures in place. The EU legislation should, then, be welcomed by both sides – the gambling industry, irked by the money-laundering claims, has always been open to greater transparency, and this will certainly lay all the cards on the table, making it much more difficult for any operator within the European Union to make illegal transactions or evade taxes.
Secretary General of the European Gaming and Betting Association Maarten Haijer welcomed the directive, saying that, in an era when "dot.countries" within the EU are increasingly segregating online gambling within their borders, it reinforces the idea that the industry is essentially a cross-border service, and is better governed by a pan-European code, as opposed to many different national regulators.
"We are confident that the European Parliament now has a good basis to come to an agreement with the Council," he said. "We hope that the final text will be approved by all institutions by the end of the year as it is vital that the directive is transposed at national level as soon as possible."
RGA Balks at Directives
However, the Remote Gambling Association (RGA) was less enthused, questioning why the online gambling industry had been singled out, particularly when it already has rigorous anti-money-laundering and due diligence measures in place. It also suggested that the Third AML Directive – a law passed by the EU in 2005 – was adhered to by all Nation States and was already effective in combating money laundering.
Chief executive of the RGA Clive Hawkswood said: "The licensed online gambling sector has highly developed tools for identifying possible threats and has an excellent record in preventing money laundering. As an industry we are never complacent, but quite simply there is no justification for singling out our sector for this kind of treatment."
The directive, which was passed by 643 votes to 30 with 12 abstentions, still has some way to go before it becomes law, however. Brussels is notorious for its tortuous bureaucratic red tape and it's possible that the EU Council may reject the recommendations of the European Parliament. More negotiations are set to take place after the parliamentary elections in a couple of months' time.
"We have consistently supported a risk-based approach," said Hawkswood, "which we consider to be the most suitable manner to tackle any problems and, of course, individual Member States can introduce additional measures if there are specific issues within their jurisdictions. We hope now that the EU Council will reject the Parliament's position on this issue and that the European Commission will defend its original stance."
Koen Roovers, EU advisor for the Financial Transparency Coalition, was adamant, however, that "the current system has bred a vast network of anonymous shell companies, which are used to funnel money that's been gained through illegal practices, or embezzled from a government's coffers."
The debate goes on…