Election Betting and Polling Both Miss Presidential Outcome 2016 for Equal Epic Fail
Posted on: November 10, 2016, 02:40h.
Last updated on: November 10, 2016, 03:07h.
Election betting has been hyped as a more reliable and accurate forecasting model than traditional polling, and that paradigm was again touted in 2016.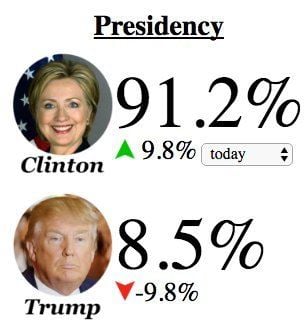 Numerous pundits opined that they believed studying where bettors were placing actual money on election outcomes was superior science to simply asking the public's general opinion on candidates.
Fox News' John Stossel was one of the most outspoken defenders of betting over polling. He launched a website, ElectionBettingOdds.com, that aggregated real money wagers domestically and in the United Kingdom.
The site combined prediction betting odds from PredictIt.org and UK bookmaker Betfair's political exchange. Both platforms offered shares of candidates at prices that were based on trading activity, not unlike the stock market.
"Don't trust polls or pundits," Stossel said in January of 2016. "Polls reveal only a snapshot of current opinion. When a polling company reaches the rare person willing to talk to a stranger on the phone, chances are that person is not well-informed about politics.
"European prediction markets are good at predicting Oscar winners, weather disasters, even 'American Idol' winners. They're not perfect, of course, but they're better than everything else," Stossel continued.
But were they? On November 8, Stossel's site still believed Clinton had a 91.2 percent chance of victory.
Polls and Bets Miss the Mark
Heading into Election Day, betting lines and prediction markets had Hillary Clinton as the overwhelming favorite to beat Donald Trump and become the 45th president of the United States.
Bovada listed Clinton at -550 to Trump at +350. A share of Clinton was selling for over 80 cents on PredictIt, while Trump was a bargain at around 20 cents. Sportsbooks believed there was a more than 80 percent chance Clinton would win the White House.
The Real Clear Politics national polling average gave Clinton a 3.2-point lead over Trump.
During election night coverage, betting markets became a key talking point. On Fox News, commentator Brit Hume continually referenced the fluctuating betting markets.
But as Election Day wore on, it became strikingly apparent that the polls and betting markets failed to recognize the quiet Trump base that was hushed by its liberal opponents.
In the end, they both got it wrong.
Mounting Losses
This has been the year of the upset, and European sports books and offshore sites are counting their debts.
"It's been a difficult year for us," Paddy Power PR Head Féilim Mac An Iomaire told MarketWatch.com. "It's been a political betting Armageddon."
Shares of Paddy Power Betfair, and other UK bookmakers, including Ladbrokes and William Hill, were all trading lower following the US election outcome.
Luckily, bets are already starting to roll in for 2020. Trump is the favorite to win the 2020 election at 11/10, followed by his VP Mike Pence (7/1), former Democratic VP candidate Tim Kaine (7/1), current House Speaker Paul Ryan (7/1), and First Lady Michelle Obama (8/1). Hillary Clinton is at 12/1.
Trump went from a 250/1 outsider in the fall of 2014 to winning last week. To put that in perspective, Kim Kardashian, another reality television star, is at 275/1 to win the 2020 presidential race.
Buy early, buy often.
Most Read