President Donald Trump in Las Vegas for Nevada GOP Push: Gaming Operators Applaud Tax Cuts, Billionaire Pals Get Face Time
Posted on: June 25, 2018, 08:17h.
Last updated on: June 25, 2018, 08:17h.
President Donald Trump was in Las Vegas on Saturday — star of the Nevada GOP State Convention that was held at the Suncoast Casino, with a subsequent roundtable at the South Point — where he urged support for Republican gubernatorial candidate and current state Attorney General Paul Laxalt and the importance of maintaining the party's slim 51 US Senate seat majority over 49 for Democratics by re-electing party Sen. Dean Heller.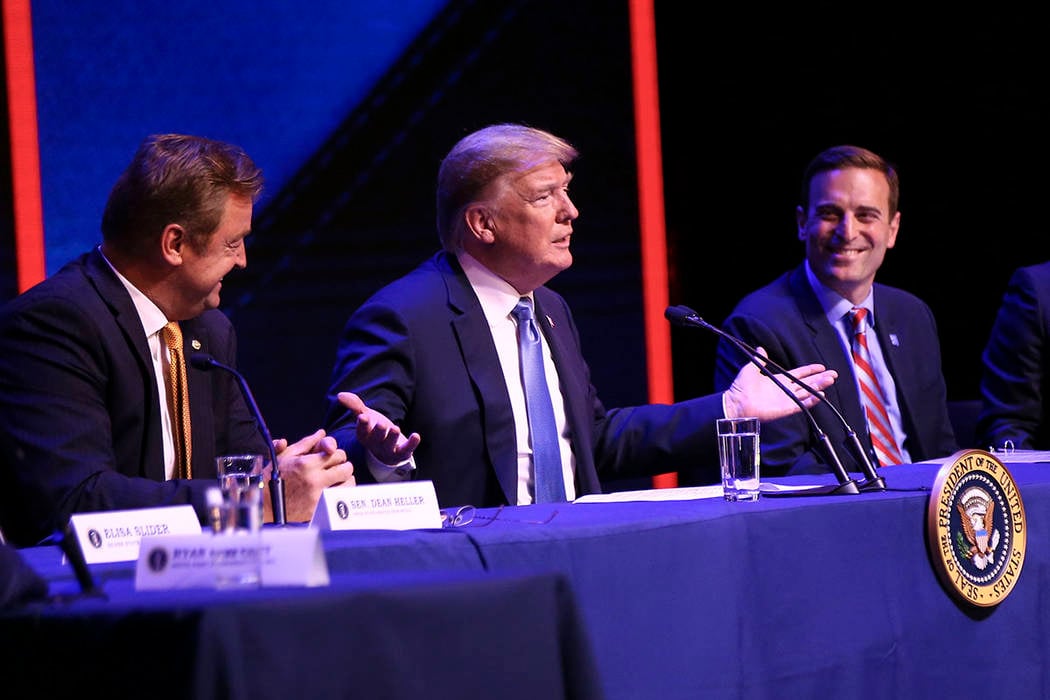 Sitting on a dias flanked by Laxalt and former foe Heller at the South Point, it was all smiles and love from not only his fellow party members, but also key players in the Las Vegas casino industry, including from The Drew owner Steve Witkoff.
Tax Cuts Applause
Although the president said the trip was "to talk trade and immigration with supporters," the Las Vegas gaming industry — many of whom have been long-time friends and supporters of Trump — had plenty of praise  for his tax cuts.
A roundtable at the South Point focused on the passage of a single uniform corporate tax rate of 21 percent that was implemented at the start of 2018. Previously, the top tax rate on businesses was 35 percent.
South Point Casino General Manager Ryan Growney told the president the resort's owner Michael Gaughan distributed $1 million more in holiday bonuses at the end of 2017 due to the cuts. The casino also assumed increased insurance costs, rather than passing the higher premiums on to employees.
"We had a big year and I'm going to save some money with The Donald," Gaughan said in January.
Along with South Point, Steve Wynn had said prior to his resignation that 12,000 of his US workers would receive increased bonuses due to the cuts. Gaming equipment manufacturer Aristocrat Leisure also gave US-based workers higher bonuses.
Nevada Attorney General Adam Laxalt, who won the GOP ticket for the governor's race this month, sat next to Trump at the roundtable. The president urged Nevadans to replace outgoing Gov. Brian Sandoval with another Republican.
Earlier in the day, the president spoke at the Nevada Republican Party State Convention where he discussed the immigration controversy, his recent meeting with North Korean leader Kim Jong Un, and endorsed Heller's Senate re-bid.
Gaming Industry Support
Phil Ruffin arrived Saturday morning at McCarran International Airport with the president via Air Force One. The billionaire owns a 50 percent stake in the non-gaming Trump International Hotel Las Vegas, as well as the on-Strip's Treasure Island, where the then-presidential candidate held a campaign rally in 2016.
Ruffin wasn't the only casino owner to meet face-to-face with the president. At the South Point roundtable, The Drew developer Steve Witkoff praised Trump for stimulating the economy.
The New York real estate developer acquired the unfinished Fontainebleau in August 2017 from billionaire Carl Icahn for $600 million. Witkoff — who's known Trump for many years — called the president "a special man" whose relationship has "been a blessing."
The Drew is named after Witkoff's son, who died of an oxycodone overdose in 2011 at the age of 22. Trump said Drew "was a great young man." Witkoff explained that The Drew will cost $3 billion to complete.
Notably Absent
The Strip is home to some of Trump's most heavily bnakrolled and steadfast supporters, none more so than billionaire Sheldon Adelson. The Las Vegas Sands founder gave $25 million a week before the November 2016 election to flood televisions with pro-Trump spots.
But Adelson was a no-show on Saturday. Ditto for Station Casinos owners Frank and Lorenzo Fertitta, who, along with Ruffin, are leading Trump's early 2020 campaign efforts.
Without a clear Democratic challenger at this juncture, Trump remains the heavy favorite to win the 2020 reelection at PredictIt.org. Shares on a Trump victory are trading for 41 cents Monday, with former VP Joe Biden the next closest at just 12 cents.
Similar Guides On This Topic
Latest Casino Stocks:
Retrieving stocks data...
Retrieving stocks data...
Retrieving stocks data...
Retrieving stocks data...
Retrieving stocks data...