Donald Trump Atlantic City History Defended by New Jersey Governor Chris Christie
Posted on: April 7, 2016, 11:20h.
Last updated on: April 7, 2016, 12:07h.
Donald Trump spent more than 20 years in the Atlantic City casino business, employing thousands of local residents and generating millions in tax revenue for the state. Dating back to the early 1980s when he first entered the resort industry, Trump owned and operated three casinos on the Boardwalk in what was then considered the gambling mecca of the East Coast.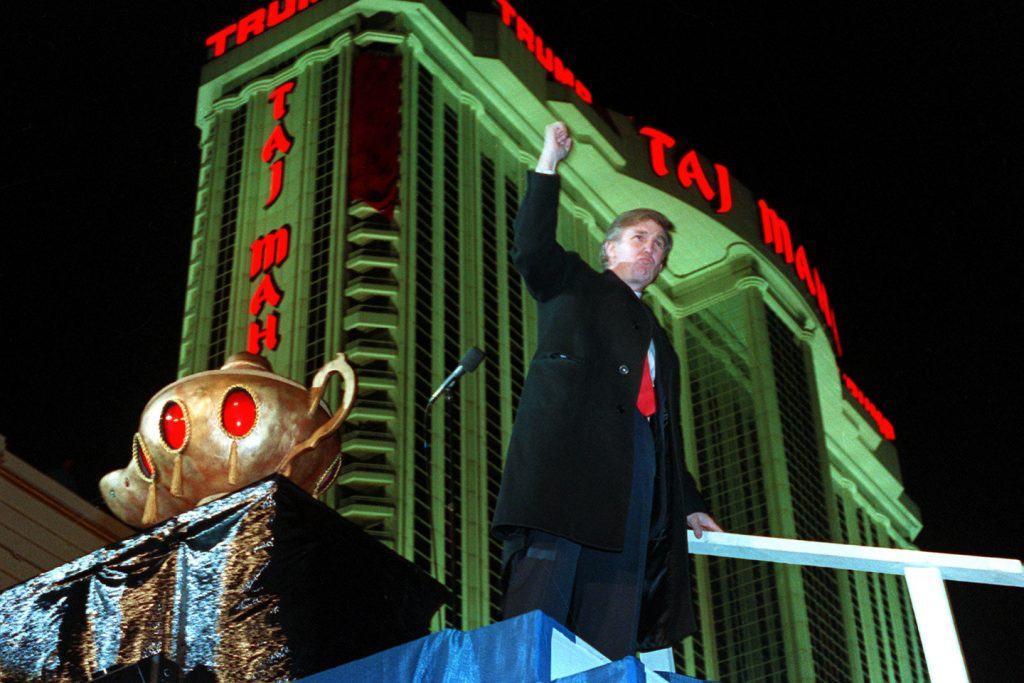 Fast-forward to 2016, and the Republican frontrunner for the presidential general election is now facing backlash, not only for the ultimate fate of his Atlantic City casinos, but also for what role he possibly played in the region's current and ongoing downturn.
On Tuesday, New Jersey Governor Chris Christie, a former 2016 GOP candidate who has since endorsed Trump, defended the billionaire.
"He is an honorable person, and I don't believe he's ever been an office-holder in Atlantic City," Christie told reporters. "I don't remember Donald being mayor," he added, an apparent dig at current AC Mayor Don Guardian, for whom the Governor has no love lost.
Trump Taj Mahal Junk Bonds
Criticism of Trump's Atlantic City record primarily deals with how he funded construction of the Trump Taj Mahal. In 1987, Resorts International was in the process of building the casino hotel when its owner James Crosby died at the age of 58, due to complications of severe emphysema.
Crosby's heirs didn't feel adequately skilled to see the project to completion, and eventually sold the controlling stake of Resorts to Trump for $79 million. He promised local officials that the construction would be finished through standard bank loans, and the Casino Control Commission approved the project. However, the banks got cold feet, and Trump eventually raised capital through junk bonds with high interest rates.
The interest on the mammoth project led to Trump defaulting on payments just 15 months later and filing for Chapter 11 bankruptcy protection.
Trump has been repeatedly pressured to defend his time in Atlantic City. During the first Republican debate in early August, he said his use of bankruptcy laws is something most businesspersons do at some point, and that sticking the bill to the junk bondholders wasn't a big deal.
"These lenders aren't babies," Trump said on August 6. "These are total killers. These are not the nice, sweet little people."
 Moving Forward
While Trump had the "good sense" (by his own account) to leave Atlantic City eight years ago, the city itself has struggled ever since. Decreasing gaming revenues and property values has created a shortfall in taxes being paid to the city, but Christie believes outlandish spending on the part of local government hasn't been reigned in properly.
The governor in his second term has threatened to veto any Atlantic City relief bill that comes to his desk that doesn't also hand over fiscal responsibility to the state government.
Christie is at odds with State Assembly Speaker Vincent Prieto (D), who wants to impose the PILOT (payment in lieu of taxes) program to allow struggling casinos to pay a fixed fee to the city, rather than taxes.
Some sort of action must be taken.
"If all you see are headlines that Atlantic City is out of money, people may draw a lot of wrong conclusions from that," Christie explained. "It can affect tourism not only to Atlantic City but to all of south Jersey."