Delaware Play Money Online Gambling Sites Now Live
Posted on: September 1, 2013, 05:30h.
Last updated on: June 16, 2014, 10:23h.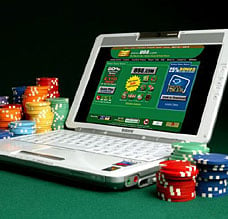 Regulated online gambling is now live in Delaware – just not yet in real money form. Delaware's three casinos have now launched free-play slots, as well as poker, blackjack and roulette games for state residents, marking the first stage of the upcoming real money online gambling that will be offered in the state by those same casinos.
Each of the Delaware casinos offers play money games that are offered in the DoubleDown Casino platform. DoubleDown, which is a Facebook-linked social gaming program, is operated by IGT, one of the major contractual slots vendors in the state.
Delaware Moves Into First Online Casino Spot
The move should help Delaware maintain its position as the first state that will offer regulated real money online gambling that includes casino games. While Nevada has already launched online poker, no state has yet offered slots or table games online in a real money format.
Delaware expects that their games will go live in real money mode in October. That would put them ahead of neighboring New Jersey, which expects to have their real money online gambling market open in November. Like Delaware, New Jersey plans to allow a wide variety of casino games to be offered online.
"This first phase will allow us to really get the players acclimated to the virtual world in a legalized environment," said Delaware Secretary of Finance Tom Cook.
Free Money Sites Just First Step
Opening up the free games ahead of the real money sites offers several advantages for Delaware. For instance, the sites can be used as a promotional and marketing tool in the region to let people know that real money online gambling is on the way. It also gives state regulators the chance to make sure the games are running properly before any actual cash is at risk. The free play games will remain available even after real money gambling goes live.
The real money games will be operated by a partnership between Scientific Games – which manages Delaware's land-based slots system – and 888 Holdings, a European online gambling company that operates 888 Poker and other sites.
The current schedule is actually slightly behind what Delaware originally planned for their online gambling offerings. Originally, regulators had hoped to have real money games available by September. However, state officials realized that this was an ambitious target, and no blame has been laid for the delay.
"We set forth what I would call an aggressive goal of September," said Cook. "I said from the beginning this is something that, when it's ready, it's ready."
While many Delaware gamblers are surely excited about the launch of the online gambling sites, the biggest developments may come months or even years after the marketplace goes live. For instance, state officials expect that mobile gambling will be available starting sometime in 2014. Cook says that he also hopes that 2014 will see the signing of an interstate compact with Nevada – one that would allow players in the two states to play online poker with one another. This would be a major step, as both states feature small player pools that may have trouble sustaining online poker sites in the long run.
According to estimates, online gambling could raise about $3.75 million in tax revenue for Delaware over the first year that the sites are in operation.
Similar Guides On This Topic
Most Read