Crisis Averted: Las Vegas Culinary Union Reaches Deals With MGM, Caesars
Posted on: June 4, 2018, 07:02h.
Last updated on: June 4, 2018, 07:46h.
The Las Vegas Culinary Union — which had been threatening to direct roughly 50,000 members to walk off the job at 34 casinos — has now reached tentative contracts with key Strip gaming operators MGM Resorts and Caesars Entertainment.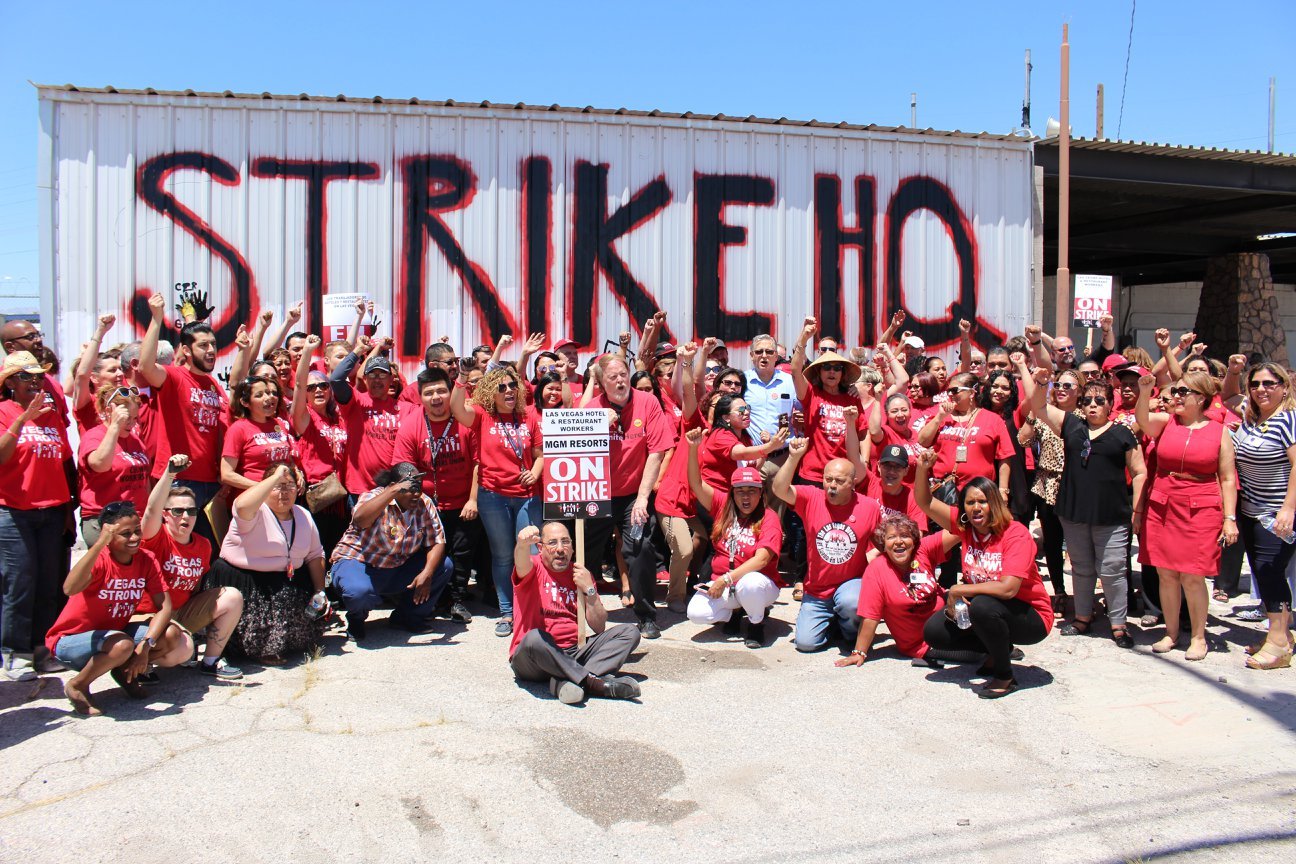 The Culinary Union's new five-year deals with the casino operators means a strike that would have likely crippled Las Vegas has been prevented.
MGM and Caesars own 18 of the 34 casinos where new contracts were being negotiated after the previous arrangements expired June 1. The companies account for about 36,000 of the 50,000 union workers in jeopardy.
Other Strip properties where negotiations continue include SLS, Tropicana, and Treasure Island. Downtown casinos include The D, Golden Nugget, and Fremont.
Caesars was first to reach a deal with the union when the two sides confirmed a tentative contract was in place on Friday morning. The union said new terms with MGM were made on Saturday.
The deals mean tourists arriving this week can rest easy knowing their experiences won't be hampered by workers walking off the job.
"We are pleased that all economic and personal security issues have been resolved with this new contract and that employees will continue to provide guests superior service and experiences," Caesars Global President Tom Jenkin declared. "This historic agreement ensures that our union team members will continue to be a crucial part of the Las Vegas Dream."
The Culinary Union doesn't represent casino dealers, but those employed in various hospitality roles including kitchen staff, waitstaff, bellmen and porters, guestroom attendants, and bartenders.
Contract Terms
Details of the new contracts haven't been released.
Union officials had been fighting for a four percent compensation and benefits raise, increased measures to combat sexual harassment, and guarantees from casinos that technological innovations that reduce jobs would be shunned. MGM and Caesars had reportedly countered with a 2.7 percent increase.
"I am ecstatic," Linq housekeeper Antonia Villegas said in a union release. "Having a settled contract means peace of mind for my family. After months of negotiating worker-centered safety proposals, my workplace is now more secure because we have comprehensive sexual harassment language that protects my coworkers and I."
Golden Year
It's always busy season in Las Vegas, but June 2018 has been shaping up to be an exceptionally lively month. Along with 80,000 convention attendees in town this week, the meteoric Vegas Golden Knights return to T-Mobile Arena Thursday for the NHL Stanley Cup Final's Game 5.
According to the Las Vegas Convention and Visitors Authority (LVCVA), guests who travel to the city for sporting events spend more than the average visitor. T-Mobile Arena is selling out at Stanley Cup Final record prices, and viewing parties across the city have been packed full of fans.
With contracts reached with MGM and Caesars, and the Culinary Union continuing to work with the remaining outstanding properties in question, business will continue as usual, and the Las Vegas gaming industry can breathe a collective sigh of relief.