Cockfighting Farm Busted in Washington State
Posted on: May 1, 2014, 05:30h.
Last updated on: April 28, 2014, 09:03h.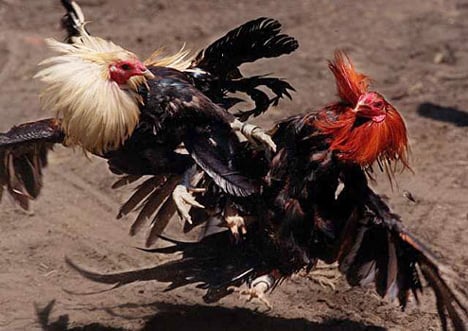 It's hard to think of a form of gambling that's more reviled in the United States than animal fighting. Whether it's dog fighting, cockfighting or another similar event, most Americans are likely to react in disgust when told about these sports. That's not to say that these contests don't have their supporters – after all, they wouldn't exist otherwise – but when those organizing these fights are caught, they don't get much in the way of public support.
That's likely to be the case in Washington as well, where state officials raided a farm on suspicion of raising birds for cockfighting. Victor Hugo Gallegos Chavez was arrested recently at his home in Rochester, a town about 70 miles southwest of Seattle, after authorities obtained a search warrant for his property.
Steroid-Filled Birds Shipped to Other Locations
According to documents filed by prosecutors in the case, Chavez and others say that he raised the birds for sale to cockfighting rings in Oregon, Mexico and other locations. Cockfighting is illegal throughout the United States, but is legal in Mexico and some other nations.
A total of 300 chickens – 240 roosters and 60 hens – were seized in the raid and had to be euthanized. The birds were found to have steroids in their systems, which officials said made them unfit for either rehabilitation or consumption.
Raid Result of Extensive Investigation
The raid and arrest came only after a two-year investigation by the Washington State Gambling Commission. Hidden cameras were used to record events at the farm, providing critical evidence for the case. Agents from the Gambling Commission were able to see Chavez tether the birds to barrels and provoke them to fight for up to a minute at a time.
"I have chickens of my own," said Thurston County Senior Deputy Prosecuting Attorney Joseph Wheeler. "To treat a bird as a toy is something that is not right in the universe."
In total, Chavez faces 100 counts of animal cruelty. He'll also be facing one charge for illegal gambling and another for animal fighting. Each is a felony charge that could carry up to five years in jail and a fine of as much as $10,000. Bail was set at $25,000, and charges will be formally filed later this week.
There may be other trouble for Chavez as well. Federal immigration officials may have evidence that he is in the country illegally, which has caused them to put a hold on the case. However, he will still face the charges levied against him before the issue of possible deportation comes up.
This marks at least the second major cockfighting bust made in the United States so far this year. In February, law enforcement officials in New York seized 3,000 birds and arrested 70 people in connection with cockfights being held in Queens.
Cockfighting in the United States
As of 2007, cockfighting is now illegal in all 50 states, as well as the District of Columbia. However, punishments for violating these laws vary: only 33 states (as well as Washington, D.C.) have made cockfighting a felony offense.
It is also illegal in all states to knowingly attend a cockfight, or to bring a minor to such an event. This was made a federal offense earlier this year by the Animal Fighting Spectator Prohibition Act, part of the Farm Bill signed into law in February.
Cockfighting is still legal in several U.S. territories, including Puerto Rico, Guam and the U.S. Virgin Islands.