CNBC's Reality Series "Money Talks" to Star Steve Stevens…Who?
Posted on: August 4, 2013, 05:30h.
Last updated on: August 2, 2013, 12:57h.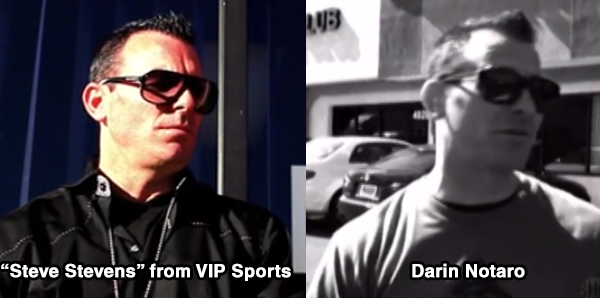 While lines and odds are mentioned in sports coverage in the United States rather regularly, the actual practices behind handicapping and high-stakes sports betting have rarely been delved into with any depth. So when CNBC announced they'd be airing a new reality series based around a sports betting consultant, there was some real excitement in the handicapping community – at least until the details were announced.
CNBC announced the new show, titled "Money Talks," recently. They described their program as follows:
"Money Talks is a docu-soap that follows Steve Stevens, his stable of agents and the clients who risk big dollars in the hope these guys have the expertise to consistently deliver winners. There's a lot on the line as we follow the gamblers who wager a few thousand each week to the whales who routinely make six-figure bets."
Starring Who?
One aspect of the show's promotional materials immediately drew scrutiny: Steve Stevens' claim that he and his company (known as VIP Sports Las Vegas) delivers winners at a 71.5% rate. That raised a lot of red flags, with famed NBA gambler Bob Voulgaris – who has been extremely successful in his betting career, but doesn't claim a winning percentage of nearly 70% — calling Stevens "a complete scam artist" on Twitter.
As more people looked into the history of Steve Stevens, it only raised further questions about the man who would star in the show. Former Caesar's Palace bookmaker Todd Fuhrman wrote that "no one…in the sports betting community I speak with daily knows who this guy is."
And that's when things got really interesting.
Double Indemnity
The gambling website WagerMinds decided to take a deeper look into the life of the mysterious and unknown Stevens. After once again pointing out the near impossibility of his claims, they examined why nobody had heard of Stevens, and found that the VIP Sports website had only been registered to a man named Darin Notaro.
Photos of Notaro look nearly identical to those of "Stevens," and Notaro is listed as the owner of another company located at the same address as VIP Sports Las Vegas. That led WagerMinds to conclude that Notaro and Stevens were almost certainly the same person. Notaro has a history of fraud, having been arrested multiple times for telemarketing scams, including at least two in which he targeted elderly victims.
So far, it appears as though "Stevens" has refused to comment, hanging up on a reporter from FoxNews.com who attempted to reach him about the story. However, CNBC has released a statement in response to the allegations, which reads as follows:
We are aware of Steve Stevens' 1999 conviction and while we are very clear in the press release that VIP Sports clients risk big dollars in the hopes that Stevens and his agents have the expertise to consistently deliver winners, viewers should tune in…to draw their own conclusions about VIP Sports. We are merely betting that viewers will be interested in the world of touts and handicappers and in no way endorse either Stevens' picks or his business model.
Most Read